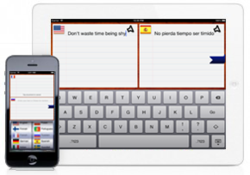 I provide care for an elderly Spanish-speaking lady. There are times when she does not have English words to tell me how she feels. Using this app we are able to communicate and understand each other perfectly.
(PRWEB) November 14, 2012
Features like showing examples of translated phrases, text to speech, random words, landscape orientation support... among other features make THE Spanish Translator the best among other translation and dictionary apps for iPhone/iPad and iPod touch.
We love Spanish, we love translation and we love languages.This is what enticed us at Eloguent Apps to develop THE Spanish Translator to help us and people like us translate and learn the beautiful Spanish language fast and easy. Check out what our users had to say about our translator.
Detailed Features: 

Translate any word or phrase, From Spanish to english or the other way around. 
Listen to the accurate pronunciation, of Spanish AND english words. 
See examples of your phrases from real world conversations (via Twitter). 
Shake your device to get a random word and its translation. 
Save it for later: 
Add any word or phrase to your favorites so you can check them later offline. 
Access the history of your translations offline. 
Search through favorites and history and DELETE translations you do not need. 
Swipe the blue ribbon up or down to see your previous translations. 
Share via: 
Copy and paste. 
SMS. 
Email. 
Facebook. 
Twitter. 
Tumblr. 
We decided to drop the price of THE Spanish Translator to FREE to make it available for everyone and to leverage the community in our continuous effort to improve the experience of translating and learning Spanish via THE Spanish Translator.
Download it from here and enjoy learning and translating Spanish.