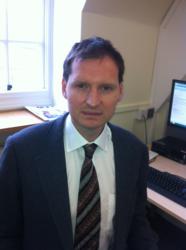 I'm delighted at being provided this opportunity. The ETS has a big agenda ahead of it and I'm looking forward to working with colleagues across the sector at such a pivotal time for the youth work profession
London, England (PRWEB UK) 14 November 2012
Garath Symonds has been appointed to the National Youth Agency's (NYA) board of trustees and to the position of Chair of the NYA's Education and Training Standards Committee (ETS) – the committee responsible for the validation of professional and pre-professional qualifications in youth work in England.
A professionally qualified youth worker and Assistant Director for Young People at Surrey County Council, Garath Symonds will bring to the Agency more than 20 years experience gained across a variety of roles within the youth sector.
He will be succeeding Mike Counsell OBE who will step down from his role as a trustee and Chair of ETS in March 2013, after serving the Agency for more than 17 years.
Fiona Blacke, National Youth Agency chief executive, comments: "We are sad to say goodbye to Mike Counsell who has dedicated almost two decades to the Agency and securing professional standards for the youth work profession.
"We are however delighted to welcome Garath as an NYA Trustee and Chair of the ETS Committee. His insight and experience of the sector will prove invaluable as we continue to grow and adapt to the ever changing landscape for youth workers."
On being appointed, Garath Symonds said: "I'm delighted at being provided this opportunity. The ETS has a big agenda ahead of it and I'm looking forward to working with colleagues across the sector at such a pivotal time for the youth work profession."