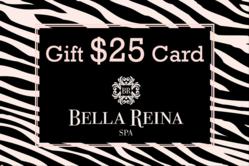 This year we decided to offer 2 Free Spa Gift Cards to be used as gifts or stocking stuffers
Delray Beach, FL (PRWEB) November 20, 2012
"Bella Reina Spa gift cards are such a fabulous gift for anyone. This year we decided to offer 2 Free Spa Gift Cards to be used as gifts or stocking stuffers for the 2012 holiday season," says Nancy Reagan, owner of Bella Reina Spa.
Black Friday originated in Philadelphia according to Wikipedia and the name described the traffic and chaos after the Thanksgiving holiday. Other explanations have described Black Friday as the day when retailers put their businesses into the black.
Regardless of your shopping reason to celebrate Black Friday, spas typically do not offer Black Friday Promotions. Bella Reina Spa decided to offer something new and different with the free spa gift cards.
One point of note is that the buyers of the spa gift cards often purchase cards for themselves, so the guilt for purchasing is completely gone when you receive free gift cards. Some call it smart shopping, while others may call it guilt-free shopping.
Bella Reina Spa is the leading provider and definitive authority on beauty, wellness and spa treatments in the South Florida area. The spa is dedicated to providing outstanding services and anti-aging treatments, like the non-surgical facelift or the slimming infrared body wrap, to guests with busy lifestyles. Bella Reina Spa was created by Nancy Reagan, a nationally recognized expert in beauty, nutrition, weight loss, skin care and makeup.