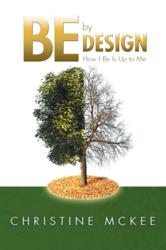 All of the tools, tips and strategies are simple and easy to apply across all contexts of life. The reader will develop the confidence to empower their own life, at their own pace, without the need of a third 'professional' party
Brisbane, Australia (PRWEB) November 13, 2012
In her years as a registered psychologist, McKee has developed a system for renewing motivation and inspiration by applying methods of Western practice with Eastern philosophy.
Based on her experience in communication training, private practice, team and leadership building, and even prenatal psychology, McKee's latest book, BE by Design, demonstrates strategies to help the reader realize their true goals. She developed her four-phase process from the philosophy that accountability for transformation begins from within.
McKee's main constructs include:

Awareness – learning the reasons behind what we think, feel, say, and do
Focus – identifying and setting specific intentions for progress
Maximizing potential – recognizing opportunity in relationships and life situations
Choices – fine-tuning your skills to make progressive decisions in the future
"All of the tools, tips and strategies are simple and easy to apply across all contexts of life. The reader will develop the confidence to empower their own life, at their own pace, without the need of a third 'professional' party," McKee says.
BE by Design
How I BE is Up to Me
By Christine McKee
ISBN: 978-1-4525-0515-2
Available at Amazon, Barnes and Noble, and Balboa Press online bookstores.
About the author:
Christine McKee is a registered psychologist with experience in yoga psychology, prenatal psychology, advanced communication, executive and business coaching, negotiation and mediation, team development, safety psychology, custom designed program facilitation and training, values alignment, and leadership development and empowerment. A certified trainer of Neuro-Linguistic Programming (NLP), McKee is currently the Director of BE Institute P/L where she works with individuals, couples, families, and corporate leaders and their teams seeking to step into the highest versions of themselves.
Learn more about Christine at: http://www.beinstitute.com.au and http://www.bebydesign.net