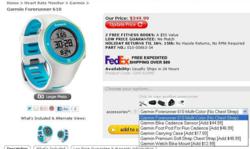 It seems like the further internet retail evolves the more everyone is migrating toward being a commodity seller and buyers are screaming at us to add real value
Bozeman, MT (PRWEB) November 12, 2012
No more digging for the best accessories for Garmin Forerunner watches at the Heart Rate Watch Company as all the ideal accessories are paired with each product and can be directly added to the cart from a drop down menu showing the prices right on the products buy page.
"We used to have photo images of accessories but that was not a direct add to cart from a products checkout page, so it took an extra step", says Rusty Squire, President of the Heart Rate Watch Company. He adds, "Now every perfectly paired accessory for your Garmin Forerunner 610 is right on a drop down menu and can go direct to cart making it easier to get the correct accessories".
At the present the company is testing the direct accessory add feature on Garmin heart rate monitors only. "We'll add Polar heart rate monitors next if consumers like it and then roll in out to every item in the store", says Squire, adding that, "Making the shopping experience easier is what it is all about".
According to Squire customers had difficulty finding all the accessories that paired with a Garmin Forerunner 910XT. "Putting them all priced on a drop down menu on the page where the product was being purchased just made sense", says Squire.
"We decided to add more value than our competitors for the Holidays by making these changes and offering $50 worth of free fitness books for every customer", says Squire. He adds, "Ultimately our goal is to show you precisely what to buy, what goes, with it and give you all the resource tools to use it effectively because nobody else does that".
"It seems like the further internet retail evolves the more everyone is migrating toward being a commodity seller and buyers are screaming at us to add real value", says Squire.