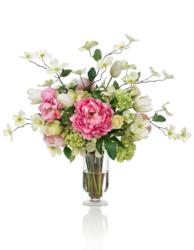 Buckhead, GA (PRWEB) November 13, 2012
Peachtree Petals, a Buckhead florist and well-known throughout Atlanta, announces the Peachtree Petals Floral Gift Club. Peachtree Petals strategically created the floral gift club to promote customer loyalty, client retention and sales growth. The popular florist is a leader in the Atlanta and Metro Atlanta area, providing hand-crafted floral arrangements, assorted gifts, wedding events, and floral decor services.
The Peachtree Petals Floral Gift Club is offered on a weekly or monthly basis upon the day/month the client requests. The floral arrangements begin at $29 and recycled vases are used each delivery. A 4-week membership receives a 10% discount, a 13-week membership receives a 15% discount and a 26-week membership extends a 20% discount. The highest discount is for annual subscribers, which is 25% on all arrangements. The monthly floral club membership ranges from 3 months with a 10% discount, to 6 and 9 months with a 15% discount. Annual monthly members will receive a 20% discount.
Beautiful arrangements can fill your business or home weelkly with floral decor from Peachtree Petals . The growing florist agrees that subscriptions help businesses keep their company presentation wonderfully fresh for incoming visitors, clients, and even their own employees. Flowers can be sent to various clients for appreciation and be a part of a company's sales team efforts to increase their client base. Another benefit is a floral gift club member can be individual that simply desires weekly floral arrangements and can have them at a discounted price.
Peachtree Petals is an honored Master Florist and has floral designers with over 50 years of experience. It was founded on the idea that beautiful, high-quality floral arrangements can be created with simple all-inclusive pricing. Peachtree Petals provide free same-day delivery in Atlanta and all Metro Atlanta areas. From wedding corsages to wedding bouquets, the popular florist also has a staffed wedding consultant able to assist you with all of your wedding floral needs. Based in Atlanta, Georgia, Peachtree Petals has a growing list of clients and prides itself on offering the best value in the floral industry.