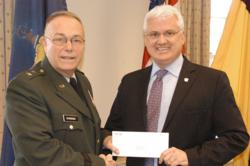 Northfield, Vt. (PRWEB) November 12, 2012
Norwich University officials announced a donation from People's United Bank in Vermont – a $75,000 pledge to the University over five years beginning last year.
President Richard Schneider received the first installment of a $75,000 pledge from the Vermont President of People's United Bank at a Central Vermont Chamber of Commerce mixer in Norwich University's Sullivan Museum and History Center last November. Last week, Norwich received the second installment of the pledge, which People's has pledged to the university without restrictions on how it can be used.
Bank President Michael Seaver presented this year's check to Schneider in a short ceremony in the president's office.
"I am so grateful to People's United Bank for its ongoing and incredibly generous support of Norwich," Schneider said. "People's United, and its predecessor Chittenden Bank, have been valuable and longtime supporters of Norwich, and it is because of community partners like this that we are able to continue serving the nation as we enter our third century of delivering cutting edge higher education."
Norwich University is a diversified academic institution that educates traditional-age students and adults in a Corps of Cadets and as civilians. Norwich offers a broad selection of traditional and distance-learning programs culminating in Baccalaureate and Graduate Degrees. Founded in 1819 by Captain Alden Partridge of the U.S. Army, Norwich University is the oldest private military college in the United States of America and the birthplace of our nation's Reserve Officers' Training Corps (ROTC). http://www.norwich.edu