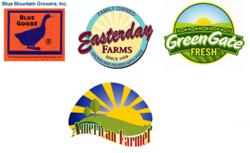 Jupiter, Florida (PRWEB) November 13, 2012
DMG Productions announced today that an upcoming episode of American Farmer, centered on innovations in the agriculture industry, will air on Tuesday, November 13, 2012, at 8:30 a.m. EST on RFD-TV.
This episode provides viewers with a behind the scenes look at the agriculture industry, featuring three different companies whose innovative farming technologies are revolutionizing the industry.
Blue Mountain Growers, a farming co-op since 1927, supports a network of fruit growers, large and small, producing the highest quality cherries, apples, prunes and plums. In this episode, audiences will be taken on an in-depth tour of one of the most beautiful farming locations in the country, while learning how co-ops help make the American Farmer thrive.
American Farmer will also feature Easterday Farms. From the early stages of planting, to the final phase of packaging and shipping, viewers will be amazed by the Easterday family's active involvement in all aspects of delivering high quality, safe produce to their customers.
Additionally, this episode will showcase GreenGate Fresh, who is committed to maintaining a sustainable future, through technology and innovative farming methods. Spectators will learn that it is not only possible, but convenient to eat fresh, healthy produce.
"I'm truly excited to be able to bring this information to the American Farmer audience," said Charlie Cowan, Senior Producer for American Farmer. "Viewers need to be introduced to companies like Blue Mountain, Easterday Farms, and GreenGate Fresh, who play important roles in providing healthy produce to our country.
About American Farmer:
American Farmer is a breakthrough program on a mission to showcase the latest advancements in agriculture and farming. From seed to harvest, livestock and more, our producers have traveled the country covering the people, places and issues impacting all areas of farm country.
About DMG Productions:
The DMG production team consists of producers, cameraman and editors that have worked for CNN, TLC, Discovery, and other major news and cable networks. Our staff includes personnel specialized in various fields from agriculture to medicine, independent films to regional news. Our field producers utilize the core concepts from our producers who storyboard our programs, and work closely with experts in the field to develop the educational programs. This powerful force enables us to consistently produce commercial-free, educational programming that both viewers and networks depend on.
Contact:
Charlie Cowan
Senior Producer, American Farmer / DMG Productions
(866) 496-4065 X 875
charles(at)dmgproductions(dot)org