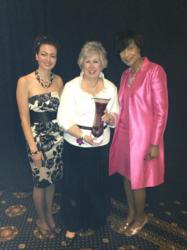 Quéz Media is honored to have received this prestigious award, and will continue to improve its efforts in benefiting the economy, fellow Minority Business Enterprises, and the Northern Ohio community
Cleveland, Ohio (PRWEB) November 13, 2012
Quéz Media Marketing was recently nominated for two major awards through NOMSDC, the Northern Ohio Minority Supplier Development Council, for their business efforts and achievements. Quéz Media is honored to receive the award for "MBE Supplier of the Year."
The Annual NOMSDC Awards gala recognizes Minority Business Enterprises (MBEs) in Northern Ohio for their economic contributions, innovations, and overall achievements in business development. This year marks the 14th annual iteration of the event, celebrating the theme "Success is a Journey… moving from vision to action!"
"…this theme also celebrates the sustained efforts, dedication and ultimate success of our local corporate partners and minority business owners who support the shared vision of NOMSDC's mission [to foster growth in Northern Ohio]," –Thomas Hopkins/Senior VP of Human Resources, The Sherwin-Williams Company on behalf of NOMSDC
Quéz Media was the recipient of "MBE Supplier of the Year" Award, which recognizes MBEs specializing in some form of product or service supply. One of nine nominees, Quéz Media was honored to accept the nomination for the second year in a row, being nominated previously for the same award in 2011.
Quéz Media was also nominated for the "MBE to MBE Commerce" Award, as one of only three nominees. This award recognizes MBEs who engage with other MBEs in order to provide a healthy, mutually stimulating business community.
"Quéz Media is honored to have received this prestigious award, and will continue to improve its efforts in benefiting the economy, fellow Minority Business Enterprises, and the Northern Ohio community" -Gina Dalessandro, VP-Sales & Marketing, Quéz Media Marketing
About Quéz Media
Quéz Media Marketing, a Minority Business Enterprise (MBE), is a total marketing communications provider. Its technology and creativity enable organizations to implement targeted, personalized cross media campaigns. Quéz Media Marketing also provides online storefronts, data services, website design and development, creative services, print production and fulfillment, tele-prospecting and promotional products. The company is online at QuezMedia.com.