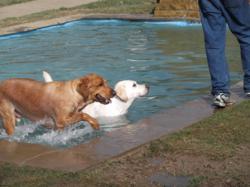 Free Daycare M-F, 11/12 -11/16
Doggie's Wonderland
Coppell, TX (PRWEB) November 14, 2012
Doggie's Wonderland, now a premier provider of full-service, "kennel free" dog daycare and dog boarding, is pleased to announce that it has completed the remodeling and re-staffing of their Coppell location. Philip Kao and Christopher Lu, the owners of Doggie's Wonderland, invite all dog owners in the local area to bring their dogs for a free week of daycare from November 12-16, 2012 so they can see the many changes that have been made at the Coppell location.
In an increased effort to provide an enhanced facility and optimal care for dogs in Coppell and the surrounding areas, Doggie's Wonderland has invested in key renovations that include a new outdoor swimming pool, a new outdoor deck and refreshing numerous indoor and outdoor areas throughout the center. Additionally, Doggie's Wonderland in Coppell is now managed by one of its owners, Christopher Lu, who has selected new, professional staff, who have received training and have extensive experience in dog care and providing a clean, friendly environment.
"We've really listened to our previous customers and invested in numerous improvements to both our facility and our staff in order to exceed your expectations," said Christopher Lu, co-owner and manager of Doggie's Wonderland. "We are committed to never-ending improvement and innovation in the care of your treasured canine friend. Your dog is sure to enjoy our new deck or swimming pool and will receive individualized care and attention from our newly trained staff."
With locations in both Coppell and Plano, Doggie's Wonderland is dedicated to "happier and healthier dogs" by providing a safe, fun and clean environment that is specifically suited to dogs. As a full-time daycare and activities center, their goal is to keep your dog happy and active. Whether it's hours of play, pampered dog grooming or social interaction with other dogs, Doggie's Wonderland offers it all, including full-service boarding and pick-up and drop-off service. For complete information about all Doggie's Wonderland services, visit their website at http://www.doggieswonderlanddfw.com or call (469) 240-1220 to schedule a reservation.
About the company:
Doggie's Wonderland believes dogs like to play and socialize with other dogs in large open spaces – not on a leash or locked in the kennel. All dogs boarding at Doggie's Wonderland, other than feeding and sleeping time, can access our indoor facilities and outdoor playground at their own will.
Doggie's Wonderland is the place for dogs to hang out, play and work out in a safe and caring environment. Our clean, air conditioned indoor daycare and boarding facilities share a large outdoor playground site where dogs can roam freely. For more information, please visit their website at http://doggieswonderlanddfw.com.