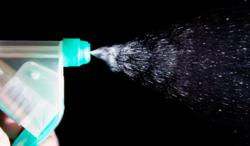 Febreze was patented in 1998 and according to their website, it effectively eliminates odours. However, this is not entirely accurate...
(PRWEB UK) 12 November 2012
Febreze was patented in 1998 and according to their website, it effectively eliminates odours. However, The Chemical Blog can reveal that this is not entirely accurate. Its composition is no secret and it's well-known that the active ingredient is cyclodextrin, a compound with a donut-shape structure with 6 to 8 glucose molecules organised in a closed circle. Synthesis is actually quite simple, and involves enzymatic treatment of starch with alpha amilase and cyclodextrin-glycosyltransferase (CGTase).
One problem P&G researchers had to overcome was cyclodextrin's poor solubility in water. This issue was resolved through various substitutions, where OH groups were replaced by OR groups. These radicals can range from simple methyl or alkyl groups to complex 2-hydroxy-3(dimethylamino) propyl ether. Multiple versions of cyclodextrin are used in the commercially available products, conferring them the ability to react with many different chemicals, which means they can be used to target virtually any smell.
While in solution, cyclodextrin's rings remain unoccupied. However, when sprayed into the air, cyclodextrin becomes encapsulated alongside a few odour molecules inside a water droplet. In this bubble, water partially dissolves smell compounds, and although minimal, this alteration is enough to allow the formation of a complex between the odour chemical and the ring-shaped cyclodextrin. In effect, the smell becomes trapped inside the ring. This is possible due to a hydrophilic exterior, granted by the hydroxyl groups; and a hydrophobic interior, due to less reactive oxygen and hydrogen atoms. This structure can form strong complexes with a variety of compounds, including "smelly" amino acids, alcohols, aldehydes, ketones, phenolics, polycyclics, indoles, aromatics, polyaromatics and fatty acids.
The first chemicals to be trapped are water-insoluble large molecules, which may need more than one cyclodextrin to be inactivated, but are quickly attracted to their hydrophobic interior. As the water droplets dry out, cyclodextrin can increasingly attract more water-soluble lower weight chemicals, such as organic amines and acids with more than one guest "invited" to each ring. As this reaction escalates, and most smell molecules are trapped, it apparently seems like the original bad smell disappears. In practical terms, it simply means that the odour molecule is still present but it cannot activate odour receptors in the human nose, and therefore one cannot smell it anymore. It's not so much a case of eliminating odours, but more of simply making them "invisible". Another way of putting it could be to call it molecular stealth!