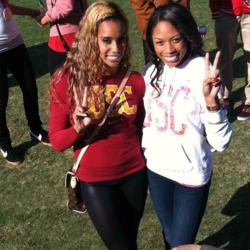 Los Angeles, CA (PRWEB) November 12, 2012
Carol Rodriguez is a USC Alumni and 2x Olympian that was honored among other Olympians such as Allyson Felix, John Mance, Aaron Brown, Duane Solomon, and Bryshon Nellum to name a few.
Rodriguez, the Los Angeles-born daughter of an African-American mother and a father of Puerto Rican descent, holds five national records for the Caribbean island -- in the indoor 60 meters and in the outdoor 100 meters, 200 meters, 400 meters and 4x100-meter relay. A 2008 and 2012 Olympian, Rodriguez won two medals at the 2010 Central American and Caribbean games, and she was named the 2006 Women's Athlete of the Year for Puerto Rico. She is also an ambassador for first lady Michelle Obama's campaign against childhood obesity. Carol Rodriguez is a Puerto Rican sprinter and Olympian athlete preparing for Russia 2013.
The City of Los Angeles honored the USC Trojan student athletes who competed in the recent summer Olympic games in London, proclaiming November 9, 2012, as "USC Trojan Olympians Day."
USC's overall medal count of 25 at this summer's 2012 Olympics in London— 12 gold, 9 silver and 4 bronze medals — marks the most ever won by the university in a single Olympics, breaking the school record of 24 at the Los Angeles Games in 1984. Troy's 12 gold medals is another new record, eclipsing the 10 gold won at both the 1948 London and 2008 Beijing games.
USC is the home of Olympians and the sheer numbers astound with 41 Trojans having participated at London 2012, which tied for the most by a university at London 2012.
The updated all-time medal count stands at 287 (135 gold, 87 silvers and 65 bronzes), including at least one gold medal in every summer Olympics since 1912.