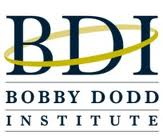 Our mission is to help people with permanent disabilities make transitions into the workforce...
Atlanta, GA (PRWEB) November 12, 2012
On November 8, 2012, show host Lee Kantor broadcast a special edition of BusinessRadioX®'s Atlanta Business Radio to spotlight some of the non-profit agencies serving the Atlanta area. In the studio were Lisa Kennedy, Chief Development Officer for the Bobby Dodd Institute, along with Gary Marshall and Trevor Smith of JCI Atlanta.
Bobby Dodd Institute (BDI) is a non-profit organization that creates job opportunities for people with disabilities and disadvantages in the Atlanta community. According to Kennedy, "Our mission is to help people with permanent disabilities make transitions into the workforce and achieve economic self-sufficiency."
BDI does this by helping clients gain job skills, secure permanent jobs, and achieve financial self-sufficiency, what Kennedy refers to as "vocational rehabilitation." She goes on to explain that approximately 80-90% of BDI's clients have never worked before coming to BDI, so the vocational rehabilitation seeks to leverage the client's strengths, connect them with community employers or BDI's own social enterprises.
BDI has created its own industries specifically to help employ the people they help. Consequently, explained Kennedy, "80-90% of our revenue each year is generated through earned income."
Also joining the discussion on non-profits in Atlanta were Marshall and Smith from JCI Atlanta, better known as "The Atlanta Jaycees." According to Marshall, "JCI's mission is to positively impact the community by providing Atlanta young professionals opportunities for networking, community involvement and leadership advancement."
The Atlanta Jaycees is an organization of young professionals that provides a wide range of activities. Members can participate in community service, business networking, leadership development, social events and educational workshops. Membership is extended to individuals age 21- 40.
Explains Smith, "The Jaycees have played a vital role in Atlanta's growth and prosperity for over ninety years." Former Atlanta Jaycees members include former United States Senator Paul Coverdell and former Atlanta Mayor Maynard Jackson.
Young professionals can apply for membership and are then networked into the Atlanta community to grow as an individual and as a professional by attending and running various events.
To hear more about how Bobby Dodd Institute and JCI Atlanta serve the city, please listen to a re-broadcast of this show at Atlanta Business Radio.
About Stone Payton:
For over 24 years, Stone Payton has been helping organizations and the people who lead them drive their business strategies more effectively. He is a Managing Partner at BusinessRadioX® and the author of SPEED®: Never Fry Bacon In The Nude: And Other Lessons From The Quick & The Dead, and has dedicated his entire career to helping others produce better results in less time.
About Lee Kantor:
Lee Kantor has been involved in Internet radio, podcasting and blogging since he started the Dr. Fitness and the Fat Guy show in 2005. Since then, Lee has interviewed well over 1000 entrepreneurs, business owners, authors and celebrities on a variety of shows and at live events. In addition to his hosting duties, Lee is a Managing Partner at Business RadioX™ and is committed to helping entrepreneurs and business owners in Atlanta learn how to use radio to dramatically grow their businesses.
About Atlanta Business Radio:
http://www.atlantabusinessradio.businessradiox.com
Each week, from the BusinessRadioX® studio in Sandy Springs, Lee Kantor and Stone Payton interview Atlanta, Georgia's top businessmen and businesswomen to learn what makes them the best at what they do.
About BusinessRadioX®:
BusinessRadioX® provides a turnkey solution for business owners who want to leverage the power of internet radio to meet their best prospects, establish credibility for their organization and heighten the placement of their brand in search engines rankings. With a professional venue and a proven formula, BusinessRadioX® helps hosts podcast their shows and create a regular stream of dynamic content to share with their prospects and feed the search engines every week. Programs are recorded and streamed live to the internet from our studios in the greater Atlanta area. For more information or to hear a live show, visit: http://www.businessradiox.com.