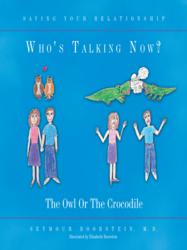 Much of the book focuses on strategies to circumvent, prevent or undo our crocodile's unloving agenda and substitute our owl's wiser, kind and caring approach
San Francisco, CA (PRWEB) November 13, 2012
It is easier to walk away from a failing relationship than to face the problems directly. That is why many couples split and marriages end in divorce.
But could the right tools make it even easier to save?
Dr. Seymour Boorstein, M.D., thinks so. He discusses these tools in his revolutionary approach to explain the brain's functioning in Who's Talking Now? The Owl or the Crocodile.
In his book, Booorstein uses whimsical characters and easy-to-follow, situational stories to help couples better understand their relationship – a concept not seen before on the market. By presenting complex the theories and reasoning in a relatable manner, the reader can easily digest and apply his strategies to save their failing relationship.
Boorstein uses a crocodile to represent our reptilian or survival-oriented, limbic brain and an owl as our wise or rational, neocortical brain.
"Much of the book focuses on strategies to circumvent, prevent or undo our crocodile's unloving agenda and substitute our owl's wiser, kind and caring approach," says Boorstein.
The limbic brain is activated by the fear of dying as perceived by the crocodile persona. When fear causes the production of adrenaline, we usually go into the fight or flight mode. And while the crocodile brain is very good for swerving to avoid an accident on the highway, it is poorly suited for interpersonal relationships.
"By getting the the bottom of relationship stress, we can speed up and resolve our lifelong struggle to leave behind our crocodile characteristics and move to a self that is in tune to our owl personas," Boorstein says.
Who's Talking Now?
The Owl or the Crocodile
By Dr. Seymour Boorstein
ISBN: 978-1-45672-829-8
Available at Amazon, Barnes & Noble, and AuthorHouse.
About the author:
Dr. Seymour Boorstein began practicing psychiatry in 1956, after graduating from the University of San Francisco School of Medicine, Dept. of Psychiatry. After three years of training at the Menninger Clinic, he went on to obtain psychoanalytic training at the San Francisco Psychoanalytic Institute. Still currently in private practice, for the past 40 years, he has also been teaching at the University of California San Francisco School of Medicine supervising and teaching psychiatrists in training. Boorstein's previous publications include, Transpersonal Psychotherapy and Clinical Studies in Transpersonal Psychotherapy. He has been married to his wife Sylvia for the past 60 years and has four children and seven grandchildren.