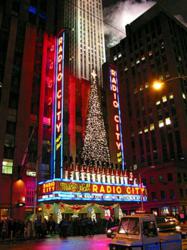 Stamford CT (PRWEB) November 14, 2012
For the second consecutive year, Fairway Market's Stamford store, in conjunction with Hearst Media Services, will be giving away 50 pairs of tickets to the Radio City Music Hall Christmas Spectacular, it was announced today just prior to the first show opening this Friday.
Open to all with no purchase necessary, Fairway Market customers may enter the contest by registering at any one of Hearst Media Services' websites (ctpost.com, greenwichtime.com, newstimes.com, stamford advocate.com) from today to December 21st. Winning entries will be drawn weekly and they will receive two (2) tickets to Radio City Music Hall's 85th Annual Christmas Spectacular - The Rockettes Celebration.
Radio City Music Hall's annual Christmas Spectacular has become a beloved New York holiday tradition in its 85-year history. Featuring Radio City's world-famous Rockettes precision dancing troupe, this year's show highlights a retrospective of the Rockettes' costumes and dance numbers through the years as well as its traditional favorites and special effects. The Christmas Spectacular opens on November 9 and runs through December 30 with over 200 performances.
Please contact Jacqueline Donovan at Fairway Market for further information.
Fairway Market offers an exceptional combination of traditional, organic and specialty foodstuffs at great prices. Each of the 11 tri-state locations is a fusion of the best specialty stores, organic markets and traditional supermarkets with the services of the neighborhood corner butcher, baker, cheese shop, and fishmonger and the freshness and variety of the farmer's market - all under one roof.
Fairway Market
Fairway Market is a high-growth food retailer offering customers a differentiated one-stop shopping experience "Like No Other Market". Fairway has established itself as a leading food retailing destination in the Greater New York City metropolitan area, with stores that emphasis an extensive selection of fresh, natural and organic products, prepared foods and hard-to-find specialty and gourmet offerings, along with a full assortment of conventional groceries. Fairway is headquartered in New York, New York. See http://www.fairwaymarket.com.