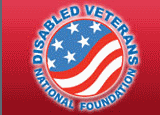 Washington, DC (PRWEB) November 12, 2012
The Disabled Veterans National Foundation (http://www.dvnf.org ), a non-profit veterans service organization that focuses on helping men and women who serve and return home wounded or sick after defending our safety and our freedom, announces the rescheduling of the webinar on converting military experience to civilian job credentials to Wednesday, November 14, at 1:00pm ET. The featured speaker, Mr. Christopher Kerney, is located in New Jersey, and due to on-going clean-up efforts after Hurricane Sandy, this webinar was pushed back one week.
For those who have not registered, there is still time to sign up for this free veterans employment webinar.
This next webinar is part of an ongoing series the DVNF provides to veterans and their families due to the challenges too many veterans have in securing the job they want to achieve in this economy. This next webinar- which is free to all veterans, their families, and veterans' caseworkers- will focus on how to leverage the same talents and training military members employ in their service and use these skills effectively in both the public and private sectors.
A second program update: the DVNF Scholarship deadline has been extended to December 1st. DVNF has received a great response, and applications are still rolling in for the $1,000 scholarship, so the organization wanted to make sure everyone had ample time to submit their scholarship application. Once decisions are made in December, the recipients will have checks mailed directly to the accredited institution of their choice at the beginning of January prior to the start of the spring semester. The DVNF Scholarship Program was launched in 2011 to help veterans in need of tuition assistance. Due to the strong response and success of the first round of scholarships awarded, DVNF decided to continue the program for this year.
"Both of these DVNF programs provide important help to veterans and we are pleased to be offering them," said Precilla Wilkewitz, President of DVNF. "We hope a great number of veterans and their families take advantage of both offerings."
To learn more about the scholarship program and the eligibility requirements, please visit http://www.dvnf.org/veterans-programs/scholarships/. If you are a veteran, or know a veteran who might be in need of this type of assistance, we encourage you to apply. For more on all DVNF programs, go to http://www.dvnf.org.