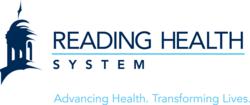 Our new name conveys the full scope of our capabilities and reflects our commitment to fulfilling our promise of directly benefiting the people, health and wellness of the communities we serve.
Morristown, New Jersey (PRWEB) November 15, 2012
The PA-based healthcare organization makes the important transition from The Reading Hospital to Reading Health System. The new identity, beginning with its name and integrated across the organization's ideas and promises, better reflects the organization's direction as it continues to shape and innovate healthcare. From its modest beginnings 144 years ago, Reading Health System has grown to become a community leader with 7,300 team members, 1,000 physicians and providers, and 63 locations across the region.
"Today is the dawning of a new day for all of us, internally and externally, for our patients and our providers, for Berks County and beyond," said Clint Matthews, Reading Health System President and CEO. "Our new name, Reading Health System, conveys the full scope of our organization, including our wide range of services, advanced treatments, and physical locations. And it reflects our commitment to fulfilling our promise of growing an advanced healthcare system that directly benefits the people, health, and wellness of the communities it serves."
In addition to the name change and modernized logo that more strongly projects into the future, Trajectory developed Reading Health System's new tagline – "Advancing Health. Transforming Lives." The tagline conveys the essence of Reading Health System and its desire to advance the health of its communities and transform lives by being a source of energy, optimism, knowledge and support.
The new rebranding will be made public through Trajectory's integrated marketing campaign comprised of television, print, outdoor, mall, web, and mobile. Examples of both the internal brand vision video and television commercials can be viewed here.
About Trajectory
Trajectory is a NJ-based, nationally focused brand + marketing agency that creates new energy for customers, brands and businesses. It does this by working with clients strategically and creatively to help them see and think in new ways, perform better and ignite new growth.
All Trajectory clients share two things in common. First, they're going through change. They want to launch new products, break into new markets or energize existing businesses that are struggling or require a fresh approach. Second, they benefit from the firm's focus of working across sectors where they have strong experience and results – Healthcare, Personal Care & Beauty, Leisure & Lifestyle and Non-Profits & Associations. Representative clients include Arnold Palmer Enterprises, NFL Consumer Products, Orlando Health, Palomar (PaloVia Skin Renewing Laser), Reading Health System and Reckitt Benckiser. Learn more about Trajectory by contacting Eric Brody, President at 973-292-1400 x201 or email him at eb(at)trajectory4brands.com.