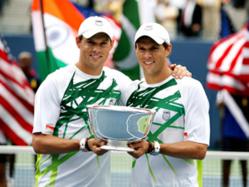 All-Time Winningest Doubles Team in Tennis History!
Sarasota, FL (PRWEB) November 13, 2012
The all-time winningest doubles team Bob and Mike Bryan will take part in the 2012 Bryan Brothers Shootout Exhibition and Live Music Party presented by Premier Tennis Travel on Dec. 15 at the Bath and Racquet Fitness Club.
The U.S. Gold Medial winning twins will take part in a busy day which will include a Pro-Am, a junior exhibition featuring two of the best 12-year-olds in the country and a pro exhibition between the California-born brothers against world top-five ranked doubles players Max Mirnyi and Horia Tecău. In addition, a live auction will be held, followed by a VIP dinner party and a performance by the Bryan Bros. Band featuring the twins and their father Wayne, who will emcee the entire days' events.
"We couldn't be more excited to announce this great event featuring the world's best doubles team," said Premier Tennis Travel CEO Remington Reynolds. "We know the Bath & Racquet Fitness Club will provide us with a perfect venue to have a hugely successful day, with a portion of event profits benefiting the local Brandi's Wish charity."
Tickets are currently available for purchase online at: https://www.premiertennistravel.com/events/bath_racquet
The reigning US Open champion Bryan Brothers will face nine-time Grand Slam doubles champion Mirnyi of Bealrus and Tecău of Romania in what should be a spirited and exciting exhibition matching four of the world's best doubles players. All four recently qualified for the ATP World Tour Finals doubles championships in London.
The junior exhibition will feature the current USTA nationally ranked No. 1 player Abigail Desiatnikov against the USTA's No. 5 nationally ranked girl, Amanda Anisimova.
Sponsors include: Sarasota Open (April 13-21), IMG Academy and Cadillac. The benefiting charity is Brandi's Wish (http://www.brandiswish.org/).
For more information on the Shootout visit: http://www.Premiertennistravel.com.