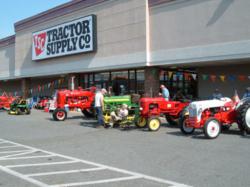 So, today, anybody can walk up and get their hay, cash and carry
San Diego, California (PRWEB) November 12, 2012
The San Diego-based company, a material handling specialist, scoured the market, but found no product that would meet the customer's needs safely, efficiently and precisely. So, under the guidance of chief executive officer Woody Thorp, C&SS designed and developed a custom product, and found a plant in Pennsylvania to manufacture it. The result was a four-step mobile ladder, with a 40" high platform. It's all-welded construction of tube and rolled formed steel, 48" wide safety grating treads, and swivel casters with a brake system, allowed the unit to latch on to the rear end platform of an eight-foot wide open truck trailer.
To lighten the load, the design also specified that a bale of hay measured only 18 by 18 by 36 inches, half the size of the standard bale. Now the job became delivering some 700 new ladder-platform assemblies to hundreds of Tractor Supply's 1,130 stores scattered throughout the country, though concentrated in the Midwest. C&SS' logistical expertise determined that as many 17 units could be packed into one semi-trailer, 102 inch wide by 53 feet in size.
"So, today, anybody can walk up and get their hay, cash and carry," says Thorp, who notes how he learned on this project that "nobody wants to handle someone else's hay." The development and delivery of the custom mobile platform ladder is another example of something to celebrate as C&SS marks its 20th anniversary this year. Thorp says the company stands by to find creative, inventive solutions to out-of-the-box problems, like in this case how to make a loading dock self-service and customer friendly.
Celebrating 20 years of smart, cost-efficient materials handling, Conveyor & Storage Solutions, "The Density People," designs and builds multi-level catwalks and warehouse storage systems. C&SS works to improve logistics and inventory tracking, secures building permits, and distributes and integrates industrial equipment that includes storage and pallet racks, industrial shelving, mezzanines and conveyors. C&SS is guided by the principle that the safety of our customers and its employees comes first.