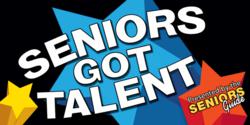 It's nice to see everyone having a good time in the videos and showing the fun in being a senior
Richmond, VA (PRWEB) November 14, 2012
Seniors Guide Magazine and http://www.SeniorsGuideOnline.com have announced that totals will be counted on Monday, December 31, 2012 to determine the winners of their 2nd annual SENIORS GOT TALENT video competition. Cash prizes will be given to the first, second and third place videos that have the most views, comments, and likes on senior resource guide's YouTube Channel.
SENIORS GOT TALENT is a showcase of videos that highlight the vibrancy of being a senior citizen submitted by seniors and retirement communities in Indiana, Ohio, Virginia and North Carolina.
Heritage Green Assisted Living in Lynchburg, Virginia submitted a special video that features residents singing special themed songs to help bring in the Halloween spirit.
Speaking about the residents starring in the video, Rozalyn Hamrick says, "They are funny, witty, talented – they are still having fun!" Hamrick is the Marketing Director for Heritage Green Assisted Living. The stars of the video are a group that meets locally, and call themselves the Red Hat Ladies.
"They are real good role models to prove life is not over after 80" says Hamrick.
Entrants who submit videos are encouraged to promote their SENIORS GOT TALENT videos throughout their community to help get the number of video views to win cash prizes.
Like others, Heritage Green has been spreading their video throughout staff and family members to help boost views and encourage "likes". Another way videos are getting a viral lift is through social media.
Pinebrook Retirement Living in Milford, Ohio is promoting the community's video on their Facebook page. The video, which has received over 200 views within the first days of being posted, features talented senior residents showcasing various skills. Woodworking, painting, quilting, stained glass work and more craft talents are featured in the video submitted by community Social Director Kim Shepherd-Lust.
If Pinebrook Retirement Living wins a cash prize, they plan to invest their earnings back into the community's social programs.
"We would purchase a keyboard for our residents to use during holiday performance, weekly sing a longs, theatrical performances etc." says Shepherd-Lust.
The Red Hat Ladies of Heritage Green in Lynchburg, VA will use their prize money towards a tea luncheon at a restaurant and will also make a donation to their local area Meals on Wheels.
Another video receiving a high amount of views and interest is Indiana's Harbour Assisted Living residents playing kazoos to the song, "Ain't She Sweet". Made famous by The Beatles, the Indianapolis seniors show the fun had at the community in the fun video. The kazoo orchestra brings a new element to the rendition of the classic song.
Sycamore Glen Retirement in Dayton, Ohio contributed a video that mixes sketch comedy with talent showcase. Featuring music by rock group Journey and Germany's classic "Chicken Dance", Sycamore Glen residents come together for a bright view on aging.
"With the success of last year's SENIORS GOT TALENT, especially our 'Seniors Perform Lady Gaga' video, we are seeing more interest this year", says Katharine Ross, Director of Publishing for Seniors Guide, regarding the popularity of the showcase.
"It's nice to see everyone having a good time in the videos and showing the fun in being a senior", says Ross.
Just like last year, multiple entries from the Raleigh-Durham-Chapel Hill area (known as "The Triangle") of North Carolina are featured. Both Brookdale Senior Living and Kisco Senior Living communities have submitted videos for this year's SENIORS GOT TALENT.
Brookdale Senior Living shares a highlight reel from their "Seniors Know They Can Dance" competition, along with a video from Heritage of Raleigh Assisted Living.
Seniors at The Heritage of Raleigh were filmed doing a choreographed dance routine to Gene Kelly's famous, "Singing in the Rain". The Heritage of Raleigh offers Independent Living along with Respite and Rehabilitation Care in Raleigh, North Carolina.
Magnolia Glen, which offers both Independent and Assisted Living senior apartments in the Raleigh, NC area submitted a video of talented senior Tony Stumpo. Stumpo, who plays piano by ear, does an entertaining rendition of the Judy Garland classic "Somewhere Over The Rainbow" from the Wizard of Oz for the community's SENIORS GOT TALENT entry.
To view all of this year's SENIORS GOT TALENT videos, visit the Seniors Guide YouTube channel and look for the SENIORS GOT TALENT playlist.
Seniors Guide, a Richmond, Va. -based company publishes Seniors Guide magazines throughout Cincinnati, Ohio; Dayton, Ohio; Indianapolis, Indiana; Raleigh-Durham, North Carolina; Richmond, Virginia; and Roanoke-Lynchburg, Virginia and features a correlating website of http://www.SeniorsGuideOnline.com. Seniors Guide's mission is to help seniors and their families find the information they need on options available in senior housing, senior care, assisted living, independent senior living, retirement communities and other retirement living needs. Seniors Guide also has resources at http://www.seniorproductsservices.com for Cincinnati, Ohio; Dayton, Ohio; Raleigh-Durham, North Carolina; and Richmond, VA. Ross Publishing, Seniors Guide's parent company, began in 1991 and has been publishing helpful, free publications and websites ever since.