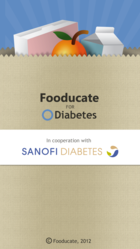 People at risk of or with diabetes need all the help they can get to make healthier choices in the supermarket aisles
San Francisco, CA (PRWEB) November 14, 2012
Over 25 million Americans - 8 percent of the population - are living with diabetes. An additional 79 million people are estimated to have prediabetes, but less than 10 percent know they are at risk.
When people are initially diagnosed with prediabetes or diabetes, they are often in shock. A common first question is "what can I eat now?". An important factor in managing diabetes and preventing type 2 diabetes, is learning how to make better food choices. Yet even veterans at managing diabetes find it challenging to choose healthy food while grocery shopping or eating out.
To the rescue, Fooducate has launched a Diabetes Nutrition app, in collaboration with Sanofi Diabetes. The new iPhone app is based on Fooducate's award winning mobile technology.
Fooducate empowers people with prediabetes or diabetes to take control by providing diabetes specific nutrition ratings and advice on over 200,000 foods and beverages commonly found in supermarkets. Following a brief setup and personalization, users can scan any product's barcode to see how healthy it is for them. The app assigns the product a nutrition grade (A, B, C...) based on scientific algorithms. Parameters such as weight, age, gender, and activity level, all get factored into the nutrition analysis of a product.
Fooducate highlights products' calories, total carbs, net carbs and serving size. For each food product scanned, the app provides a personalized nutrition label with daily values matching the user's profile. Additionally, Fooducate details the nutritional pros and cons of each product, uncovering excessive sodium, hidden trans fats, and dubious additives. Last but not least, the app recommends healthier alternatives.
"People at risk of or with diabetes need all the help they can get to make healthier choices in the supermarket aisles, where food label confusion reigns supreme," said Hope Warshaw, RD, CDE, dietitian, diabetes educator and author of Diabetes Meal Planning Made Easy (American Diabetes Association). With Fooducate's Diabetes Nutrition app, people can choose foods with less fat and sugar, eat more fiber, and lighten up on sodium and saturated fat - key to healthier eating.
Since launching in 2011, Fooducate has helped millions of people make smarter food choices for their families. "Many users have written us requesting specific recommendations for diabetes," said Hemi Weingarten, CEO of Fooducate. "We are pleased to launch our Diabetes Nutrition app on World Diabetes Day, and hope people living with diabetes will find Fooducate a helpful resource in managing their condition."
Diabetes Nutrition by Fooducate is available for free on the iTunes App Store.
About Fooducate
Fooducate's goal is to help millions of shoppers choose healthy, tasty, and affordable food, and to affect positive change on the food industry. The company's mobile apps, website and daily blog help people make better food choices at home and while shopping.
Fooducate's mobile app was first place winner in the U.S. Surgeon General's Healthy App Challenge earlier this year. Its iPhone app was selected by Apple as Best in Health & Fitness category. Fooducate is also available for Android and on the web. Additional versions, for gluten and allergies, as well as diabetes, are available for download from the iTunes App Store.
For more information, please visit http://www.fooducate.com
###