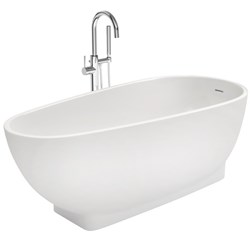 Bella Bathrooms understand the need of having an extensive range of items and have therefore increased their quantity of baths from the finest manufacturers in the UK.
(PRWEB UK) 13 November 2012
One of the most important aspects to any bathroom suite is the Bath or Shower itself. It is vital to purchase products in this area of high quality in order to create a centrepiece design any room deserves. New technology and designs increase within the market and fresh styles are available for home owners to create the most modern look possible. Bella Bathrooms understand the need of having an extensive range of items and have therefore increased their quantity of baths from the finest manufacturers in the UK such as April Showers and Moods.
The company are now selling the latest bath items from Moods featuring luxury twin end baths suitable for home owners wanting a great level of bathing space whilst adding luxury and style to a suite. These products feature an ability for two people to bathe at the same time to fight away any stress the day may have caused. All double ended baths are specially designed to provide the finest of experience in any bathroom suite. Double ended baths can be purchased online from Bella Bathrooms whom stock the finest range of products at a discounted price.
For those with restricted space in a bathroom or cloakroom suite, small baths are available to help comfort the issue yet provide the same quality of luxury. Many people believe that a smaller suite restricts the type of bath available to purchase, however Bella Bathrooms have countered this issue by supplying space saving items to help get the most out of any bathroom. The new range of Moods Corner Baths are also great for those with limited space. The option of positioning the unit in the corner of the room still provides the same special features of a standard shaped bath. These two options are essential for home owners that want to clear floor space for other key bathroom elements.
Shower Baths from Moods also help provide a unique sense of bathroom experience. Many home owners struggle to decide between a bath and shower; Bella Bathrooms have countered this difficulty by offering consumers with the option of buying two in one. Enjoy a calm and tranquil bath or alternate to a more quick and efficient shower to gain the perfect balance of option. There are various different sizes and designs to allow all homers with the ability to find something for them.
The Moods Freestanding Baths are the choice for home owners wanting to add the ultimate touch of luxury. The new range of products at Bella Bathrooms provide the option of gaining the ultimate centrepiece to any suite as well as providing the perfect relaxation availability. Freestanding baths are amazing for those wanting to add a specific focus point in any bathroom as the bold and classy designs creates and extremely distinctive effect. Available in a variety of both modern and traditional designs, there is a freestanding bath suitable for any bathroom décor.
About Bella Bathrooms:
Bella Bathrooms is one of the finest UK online bathroom retailers based in the North-East of England and offer continuous great deals of bathroom refurbishments, shower, towel rail and radiator updates, stylish bathroom furniture and various other key elements at prices that are guaranteed to be unsurpassable. The latest updates continuously made have further improved the overall quality and they have set a high standard for things to come in the future. The company also own a number of other e-commerce sites with their latest addition being ibathroomsuites offering most bathroom suites with a next day delivery service.
Bella Bathrooms
Tel: 0844 8117 017
Available to contact from 9am – 5pm