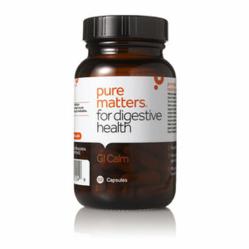 Herndon, Virginia (PRWEB) November 20, 2012
Pure Matters, a retailer of premium health and wellness products, today announced the availability of a new dietary supplement aimed at supporting digestive tract health, Pure Matters® GI Calm for Digestive Health.
Poor digestion affects millions of Americans. While the causes of digestive dysfunction are complex, it is common knowledge that stress, poor dietary choices and aging can all have a negative impact on digestive function. For instance, at certain stages of our lives, it may be necessary to supplement our diets with enzymes to help maintain a healthy digestive system. This is especially true as we age, or if our diets lack raw, whole, enzyme-rich foods. Furthermore, overindulgence and unhealthy eating habits can lead to incomplete digestion, which can result in occasional heartburn or a bloated, uncomfortable feeling. Taking a comprehensive digestive enzyme supplement provides an additional source of enzyme activity to help the body better digest food and absorb essential nutrients.**
"Research now shows that the health of our gastrointestinal tract has a major impact on our immunity, skin health, cognitive function, and overall well-being. Because wellness truly begins in the gut, it is imperative to help support efficient digestion," said Pure Matters Advisory Board member Amy Fitzpatrick MS, RD. "GI Calm features a comprehensive enzyme blend to help your body efficiently break down carbohydrates, fats and proteins to support optimal nourishment with traditional stomach soothing herbs that have been time-tested for their ability to help calm sensitive stomachs."
Pure Matters® GI Calm for Digestive Health
This all-new, comprehensive enzyme blend helps facilitate carbohydrate, protein, and fat digestion. Featuring pancreatin and papain digestive enzymes, traditional stomach soothers fennel, anise and ginger, as well as calming herbs like valerian and hops to help ease an anxious stomach. GI Calm also contains fenugreek seeds, which emerging scientific research suggests may help protect the gastrointestinal lining.
Taken before meals, this unique blend was created to help support healthy digestion and ensure peak digestive function and absorption.**
GI Calm is vegetarian and gluten free.
________________________________________
About Pure Matters
Pure Matters is a health and wellness retailer, providing wholesome, natural vitamins, minerals and herbal supplements. Dedicated to quality and efficacy, Pure Matters relies on rigorous testing, quality assurance procedures, as well as over a century of pharmaceutical heritage. Pure Matters puts the health of customers first and foremost, offering pure-balanced solutions proven to enhance quality of life.
**These statements have not been evaluated by the Food and Drug Administration. This product is not intended to diagnose, treat, cure, or prevent any disease.