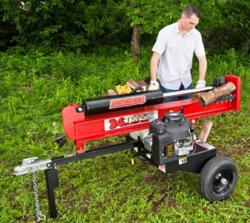 If you think about it, with a 4 way wedge you can split one piece into 4 pieces with one split rather then splitting with a regular single wedge that would take 3 splits to get those 4 pieces. This would increase your production by 66%
Central Point, Oregon (PRWEB) November 14, 2012
WoodSplittersDirect.com continues expanding its online superstore offering with the addition of 4 way wedges to Swisher 28 and 34 ton log splitters.
Swisher product have been around for 60 years and have a strong track record for selling quality power equipment such as log splitters.
"These 4 way wedges are a great addition to the Swisher 28 and 34 ton log splitters. If you think about it, with a 4 way wedge you can split one piece into 4 pieces with one split rather then splitting with a regular single wedge that would take 3 splits to get those 4 pieces. This would increase your production by 66%," said Michael Hirsch, log splitter expert at WoodSplittersDirect.com.
With the addition of the 4 way wedges, Wood Splitters Direct now offers a very cost effective, high production solution for firewood needs.
Wood Splitters Direct features a selection of more than 80 log splitters, in addition to a website packed with product education, testimonials, reviews and best-seller rankings. The online superstore excels by employing knowledgeable sales associates, capable of providing solid consumer solutions.
Wood Splitters Direct is an online resource that provides high-quality log splitters and accessories through a direct-delivery business model. With a goal to offer the best log splitters at competitive prices.