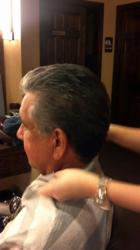 "Discerning businessmen these days want to look and feel younger, but don't want people to know he colors his hair. The Ostensible achieves exactly what he's looking for," says Ben Davis, founder and CEO of The Gents Place.
(PRWEB) November 12, 2012
Tired of the gray? Now gentlemen can take years off their look…yet in a subtle and sophisticated way! The Ostensible Hair Color Service is customized at The Gents Place to each man's hair and his desired color results. Rather a man wants to blend a little gray while leaving the hair looking natural or blend even more of the gray and look years younger, The Gents Place provides these subtle and semi-permanent services that are fast, easy and discrete. In fact, it takes less than 15 minutes to add this on to each man's existing hair service. The best news of all is that for a limited time only, The Gents Place is offering 50% off the clients first color service! Just mention this article when booking the appointment.
Here are some facts to consider!
•The typical color service takes only ten minutes!
•The talented team at The Gents Place can customize each hair color service depending on the amount of gray in the hair and the desired amount to be covered.
•The color will simply fade out and leave hair looking natural…no long term commitment!
•The Ostensible isn't designed to cover the gray completely…it just reduces the amount of gray in a very subtle way.
•This service will improve the current state of the hair…the ingredients such as protein and oil will promote strength and shine!
About The Gents Place
Founded in 2008 by Ben Davis, a frustrated guy who hated getting his haircut, The Gents Place offers men's grooming and lifestyle products and services in a masculine, yet relaxed country club type environment. They offer men's hair services, hand and foot repairs, straight razor shaves, massages, shoe shines and more. Frequently referred to as America's Premier Men's Grooming and Lifestyle Club with locations in Texas (Dallas, Frisco) and Kansas (Leawood), The Gents Place is known for its commitment to client service and top shelf amenities. About The Gents Place
To learn more or find a club near you visit http://www.thegentsplace.com