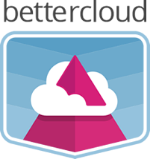 New York, New York (PRWEB) November 13, 2012
BetterCloud, the leading provider of cloud management tools for Google Apps, today released findings of an in-depth customer survey revealing Google Apps and cloud adoption trends, pointing to a growing use of Google Apps in the enterprise and a willingness to adopt cloud technologies from small organizations.
The study, conducted in October 2012, is based on a survey of more than 1,300 Google Apps administrators and BetterCloud customers ranging from small, medium and enterprise organizations. The study reveals that enterprises account for the large majority of Google Apps seats, with a disproportionately large share of migrations from Lotus Notes.
For complete survey results, see Google Apps: The Numbers You Need to Know
Google Apps seats are consolidated in the enterprise employee segment

The largest 10% of Google Apps domains account for 78% of all users
Though Google primarily touts small businesses victories, it is clear that the messaging platform is gaining traction across all business segments.
Enterprise customers seek the assistance of a Google Apps reseller, while smaller organizations are less likely to find outside migration and training help
71% of enterprise (500+ employees) organizations purchased Google Apps licenses through a reseller
40% of mid-sized businesses (20-500 employees) sought help from a reseller
19% of small organizations (fewer than 20 employees) purchased Google Apps through a reseller
Microsoft Exchange was the predominant messaging system prior to Google Apps across the board, but nearly one third of all small businesses have always used Apps
40% of businesses in all segments previously used Microsoft Exchange
21% of enterprises migrated from Lotus Notes, the highest of any segment
27% of small businesses have always used Google Apps compared with 13% of mid-sized companies and 5% of enterprises
If your organization is looking to the make the move to Google, check out this free self-service Google Apps migration report.
The majority of all organizations are not yet ready to move their entire computing infrastructure to the cloud, but small businesses are most willing to explore
67% of all enterprise administrators are not ready to move entirely to the cloud, signaling discomfort and unwillingness to adopt cloud solutions outside of messaging
72% of small businesses have already moved all IT infrastructure off-premise
Survey results point to a fragmented cloud CRM space
18% of enterprises on Google Apps are also using Salesforce.com
Small businesses were more likely to use lightweight CRMs such as Insightly and Zoho
"We're extremely excited to be a leader in the Google Apps Marketplace," said David Politis, BetterCloud Founder and CEO. "Based on our experiences, conversations with customers and relationships with others in this space, Google appears to be winning and we're thrilled that tools like our's help to increase and speed up adoption across all business segments."
View the report for free at http://www.bettercloud.com/survey.
About BetterCloud
BetterCloud is the leading provider of cloud management and security tools for Google Apps. FlashPanel, its flagship product, used by over 11,500 companies and 3.8 million users worldwide, is a directory management and Google Drive security tool that empowers Google Apps administrators by providing added controls, visibility, automation and more. BetterCloud also powers Ask the Gooru, which provides free Google Apps training videos and aims to further the adoption of Google Apps. BetterCloud is headquartered in New York City. For more information, visit http://www.bettercloud.com.