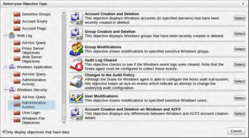 Clear, Concise, Accurate Reporting
(PRWEB) November 14, 2012
Symtrex Inc is pleased to announce that Version 6 of the Snare Server has been released. The Snare Server is a robust event log management system, which provides clear, concise, accurate reporting of the information that is pertinent to an organizations security and audit requirements.
The Snare Server user interface has been significantly redesigned for version 6, with a focus on simplifying navigation, and taking advantage of the features of modern browsers.
Drag & drop, pop-up windows, tabbed pages, and interactive updates all contribute to a modern streamlined environment that provides for detecting security issues easily. .
The Snare Server includes over 100 different reports spread amongst a wide range of categories, including administrative activity, sensitive file monitoring, user login activity, web proxy access, firewall and router monitoring, user and group checks, and many more.
The Snare Server now includes a unique feature of importing objectives or queries that have been built by the Snare Server support team, as well, as allows standardization of reports across multiple Snare Servers.
With this new version, a new flexible licensing structure is now available, one can choose perpetual, term or subscription based licensing.
To find out more, schedule a webinar or obtain an evaluation copy, please contact us.
About Symtrex Inc.
Symtrex is a private IT security services organization, having been in business since 1988, we provide full network and security services for clients with solutions that range from IT security compliance to network security software and compliance reporting. Contact us at 866-431-8972 or visit the website at http://www.symtrex.com.