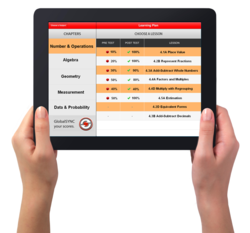 Brainchild offers proven strategies to raise achievement of at-risk student groups, establish measurable goals, and accommodate teachers' preferences to assure smooth implementations
Naples, Florida (PRWEB) November 13, 2012
Schools and districts show how iPads can improve student outcomes with student-directed learning with Brainchild's iPad software series. For both "one-to-many" and "one-to-one" implementations, apps are used offline, then can sync to web-based reports. Student, classroom, and school-wide reports help teachers track progress and adjust instruction.
"Districts have come to Brainchild to implement mobile learning strategies for 15 years," said Jeff Cameron, Brainchild's president. "Each school has its own goals and teacher capabilities where technology is concerned. Brainchild offers proven strategies to raise achievement of at-risk student groups, establish measurable goals, and accommodate teachers' preferences to assure smooth implementations."
Each app uses a highly successful student-directed process of pretest, play multimedia instruction, guided practice with feedback, then post test to confirm progress. Students quickly find their strengths and weaknesses and spend time on concepts where they need help the most. The iPad apps work in conjunction with web-based versions of the software, where the reports are kept. The software series include Core Concepts for Common Core assessment and instruction, Achiever for state-specific standards, and Mechanics, a skills-based series in English and Spanish for students who perform far below grade level.
"Students can access all our series on any platform, including computers through the Internet, iPads, and Android tablets," said Courtney Dunham, Brainchild's Professional Development Director. "We specialize in providing appropriate content and guidance to establish programs that support to each school's needs, with whatever device they may have."
Free iPad evaluation copies are available at
http://www.brainchild.com/mobile-learning/ipad/ipad-download/
About Brainchild
Brainchild is a leading provider of software and professional development strategies for mobile learning and data-driven instruction, specializing in school improvement programs.
Contact:
Jeremy Verret, VP Sales
Jeremy.verret(at)brainchild(dot)com
800/811-2724