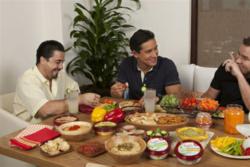 Los Angeles, CA (PRWEB) November 12, 2012
Mario Lopez helps Sabra Dipping Company kick off a season of Sabra Take a Dip House Parties by hosting one of his own with friends and family. On November 10th, one-thousand lucky party hosts will experience and share a custom Party Pack prepared by Sabra, bursting with coupons, recipes, prizes and inspiration for delicious and easy entertaining. Their guests will explore more than a dozen varieties of Sabra hummus and fresh dips and spreads including guacamole, salsa and Greek yogurt based dips.
"Mario Lopez has been in our homes forever, we are so thrilled that Sabra is in his!" said Ken Kunze, CMO of Sabra Dipping Company. "From Saved by the Bell to Extra and now the X-factor, Lopez is an icon of American culture. Sabra hummus is America's favorite new dip and we are looking forward to introducing our products to thousands more on November 10th."
Lopez hosted the first of the Sabra Take a Dip House Parties with friends, family and co-workers from the set of Extra, dipping into fresh Tuscan herb hummus, Southwestern Salsa, Spicy Guacamole and Cucumber Dill Greek Yogurt Veggie Dip. On November 10th, tens of thousands of party hosts and guests across the US will gear up for holiday entertaining season trying Sabra favorites and new recipes like Stuffed Chicken Breasts and Hummus Mashed Potatoes with a little guidance from the Sabra Brand Ambassador chefs (http://www.facebook.com/sabra). Sabra worked with House Party, Inc., to bring the parties to targeted consumers throughout the US to allow enthusiasts to share their favorite Sabra products with friends and family and spread the word about their taste discoveries through social media. Hosts were selected from more than 20,000 people who applied to throw a Sabra party.
About Sabra Dipping Company, LLC
Sabra Dipping Company, LLC is a leader in the refrigerated dips and spreads category and producer of America's top-selling hummus. Sabra's award-winning hummus, available in more than a dozen flavors and a wide range of authentic, healthy and vegetarian dips and spreads can be found nationwide in club stores, supermarkets, specialty retailers and through food service. Sabra operates a silver LEED certified factory in Virginia, and in 2011 received an A-Classification from the British Retail Consortium (BRC) audit board for food safety for its California plant. Visit Sabra at http://www.sabra.com, on Twitter at http://www.twitter.com/sabra and on Facebook at http://www.facebook.com/sabra.
About House Party
Established in 2005, House Party is a social marketing company that drives consumer recommendations to build brands and increase sales. Our in-home parties – hosted by social influencers and powered by our digital platform -- generate unmatched engagement, driving stronger brand advocacy and bigger brand and sales lifts, at scale, than other marketing programs can. House Party is headquartered in Irvington, NY, with offices in Chicago, San Francisco and Los Angeles. For further information, please visit about.houseparty.com.