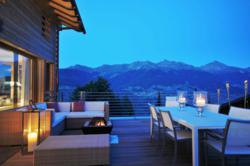 Unwind in restful surroundings
London (PRWEB) November 14, 2012
This chalet may sound aggressive but it's actually named after Bhutan's iconic Tiger's Nest Temple, providing much more tranquil connotations and incredibly appropriate too because this elegant four storey lodge is designed to be a serene and soothing escape. Just 2 hours from Geneva airport, nestled outside the village of Les Masses, skiers will delight with reliable conditions and slopes a mere 12 minutes from the chalet. Needs will be fully accommodated whether they involve being on the slopes all day or seeking a mountain sanctuary by the round the clock attentive team which includes a host, chef and driver!
This sleek, herculean chalet offers a truly one of a kind villa experience for a winter treat. Elevated and spaced across three floors, the five hundred and forty meters of squared space oozes with originality from the black slate entrance hall, to the alpine timber walls, to the unique furnishings which include a motorbike and tiger skin rug! One Oak is a truly magical and winning combination of traditional and contemporary designs that feature state of the art equipment. With ski-lifts conveniently 5 minutes away and offering three hundred and sixty degree views of Mont Blanc this chic chalet offers a lavishly comfortable ski retreat. An instant access 24 hour concierge service promises to provide guests with 'whatever you want, whenever you want it', now that sounds like a pledge worth taking advantage of!
This romantically sophisticated chalet is one for those with majestic tastes pandering to contemporary luxuries. A classic wooden exterior warms the soul into elegantly decorated surroundings; an open plan kitchen and dining area that leads to a living room and library. Chic, colonial inspired bedrooms are all accessible to the terrace that offers stunning views of the Val de Bagnes whilst the master bedroom that encompasses the whole of the top floor offers its own private terrace. Although available under special request, the jewel of Chalet Bella Coola is its outstanding spa. Behind giant Moroccan double doors lies an incredible indoor pool and spa, surrounded by ornate carvings, columns and accommodating a pool side lounge complete with plasma television and armchairs! After a day on the slopes, take a dip, make use of the hammam and unwind in restful surroundings.
Nature aids in ensuring this chalet is both picturesque whilst luxurious. Nestled amongst beautiful woodlands and tranquilly set next to a mountain stream, Chalet Amazon Creek boasts a setting of one of the leading European sports destinations. The chalet provides Land Rover Defenders and drivers to take guests to and from the slopes making winter activities both convenient and accessible. When not on the slopes take advantage of the luxury spa with hamman steam room, sauna and sunken Jacuzzi or make use of the cinema room which offers Sky television. Nestle down in the evenings, taking in breathtaking views of the Aiguille du Midi with a well deserved glass of wine from the chalet's own expertly stocked wine cellar. Feel the flames of the fire and hear the pop of that cork; simply sumptuous!
Prepare to be wowed by the largest suite in St.Moritz, located on the top floor of the prestigious Carlton Hotel overlooking unprecedented views of the frozen lake and Engadine Mountain scenery. 5 terraces and balconies have this spectacular view covered from all angles, while away from the cold air, cosy up in an exceedingly spacious living room with open fire. Cook up a storm in the state of the art Kitchen or just relax in the knowledge that a personal butler will attend to every need, whim and care. To lull the tensest into absolute relaxation mode is the leading Carlton spa which is set across 3 floors and features; indoor and outdoor pools, Sauna area, private spa suite, fitness centre, hair salon and six individually appointed treatment rooms.
To browse the exclusive portfolio of beautiful villas or to speak to an advisor about booking a villa please visit http://www.quintessentiallyvillas.com or call +44 (0)845 269 6673
About the Company:
Quintessentially Villas is a sister business of Quintessentially. Quintessentially is the leading international luxury lifestyle company. Launched in 2000 as a small London based concierge service, Quintessentially has experienced a complete transformation in a decade, and currently have offices in over 64 cities around the world. The service provided to their discerning and HNW members is proactive and personalised, catering to every member's need, from last minute restaurant bookings, travel arrangements, and access to private parties, as well as fulfilling every unusual request and successfully connecting businesses all over the world. Quintessentially can offer access to the inaccessible and can make the seemingly impossible, possible. In a bid to ensure only the very best service is delivered across the luxury market, Quintessentially has also launched 32 luxury sister businesses comprised of experts in every luxury division. This includes real estate, travel, luxury retail, wine, art, flowers, private aviation and more (http://www.quintessentiallygroup.com).