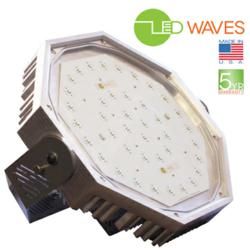 With the introduction of the Andromeda LED high bay, the small business is prepared to meet the industry's lighting needs on a larger scale than ever!
Brooklyn, NY (PRWEB) November 13, 2012
LED Waves is a Brooklyn-based LED lighting supplier specializing in retrofit and customized lighting solutions, as well as Original Equipment Manufacturing. While in-house manufacturing was previously limited to projects for private OEM clients, last year marked the turning of a new leaf for the company: LED Waves launched an exclusive line of energy-saving products engineered and assembled in the USA, available directly to end users and lighting specifiers alike. This was a significant achievement - both as a small company, and as one in an industry dominated by offshore suppliers.
With the introduction of the new Andromeda LED high bay replacement lamp, the small business is prepared to meet the industry's lighting needs on a larger scale than ever! It is designed to replace the 400+ Watt metal halide and high pressure sodium lamps used in large commercial and industrial facilities, using a fraction of the energy.
After over a year in development, the company is proud to share the Andromeda's LM-79 report, verifying its optical performance by a third party light testing laboratory. Released in conjuction with the LM-79 report is the new Andromeda spec sheet, available for download at LEDWaves.com.
Custom features now available on the Andromeda allow users to control the brightness, color temperature, and shape of their light. Lighting specifiers may choose from arrays of 24, 32 or 40 XM-L chips; in 4000K (neutral white) or 5700K (daylight); and topped with either a Bubble optic or a Ledil optic. (The Bubble optic produces a perfectly round distribution of light, suited for open spaces such as parking garages. The Ledil optic distributes the light in an oval shape, ideal for illuminating tight spaces such as warehouse aisles. A free lighting demo may be scheduled by calling LED Waves at 1(800)986-0169.
Measured using 40 LEDs with a CCT of 5700K, the Andromeda LED high bay produces over 18,250 lumens. With the lens removed, it is capable of 20,112 lumens! Industrial equipment specifiers should note that, as a directional light source, the lumen output from this LED high bay is 100% useful. Traditional models using metal halide or HPS technology are omni-directional, meaning that up to 60% of the light produced is aimed at the light fixture itself or other non-useful areas of the facility.
With such outstanding efficiency, plus an operating life of over 30,000 hours (backed by a 5 year warranty), the Andromeda is a true game changer - and not just in the LED lighting community. It is poised to revolutionize sustainable facilities management everywhere with its value-adding performance.
The Andromeda LED High Bay Replacement Lamp is an exciting new addition to the company's rapidly growing line of exclusive products made in the USA. This line includes an LED recessed light fixture, 2-foot and 4-foot fluorescent replacement T8 tubes, low voltage AND line voltage LED MR16s, and E26/27 Edison-base PAR20, PAR30, and PAR38 LED light bulbs. Looking ahead, LED Waves plans to offer at least one American-made option to fulfill every industrial, commercial or residential lighting application.