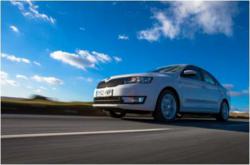 (PRWEB UK) 12 November 2012
Often it's the small touches that count – the unseen thought included by the designer that makes a car a delight to use whether it's for business or pleasure. Such touches go beyond the car price, the monthly business car lease cost, the company car tax bands and the performance figures.
These small touches, the attention to detail – it's factors such as these that Skoda is putting into its company cars, says Peter Olah, Skoda design co-ordinator, who was talking at the launch of the new Skoda Rapid.
Having decided to completely change the company's approach to design and technology four years ago, Skoda showed us what they meant with the Skoda Vision D concept at the 2011 Geneva Show – a preview, in effect, of the new Skoda Rapid (see Skoda Rapid should make quick impression with businesses).
Back to the Vision D concept, which highlighted the "clever engineering with a human touch", reckons Olah. "We've already seen examples of that in the original Skoda Superb, which had an umbrella concealed in the rear armrest for rainy days."
Olah continues on his theme of thoughtful design touches: "One of the best examples is the little hook in the boot to hold your shopping bag upright – it costs almost nothing but really changes your life. This is what we call the human touch."
The clever touches continue with the Rapid's combined ice scraper and magnifier concealed inside the fuel filler cap. Which, as we're coming into the winter season, will be welcome news for those company car drivers who choose the new Rapid.
The Rapid, which is on sale now, also demonstrates Skoda's approach to styling, which is bold, strong and confident.
With the new CitiGo city car – see Business Car Manager car review S koda smartens up its business suit – and it continues with the angular lines of the new Rapid.
The Skoda Rapid range starts from as little as £12,900, while the lowest company car tax band in the range is the petrol 1.2 S TSi model rated at 14%.
John Griffiths, our industry correspondent, has just been out to drive the new Skoda Rapid. Many will look forward to reading what he has to say in his company car review, which we'll be publishing later this week.
Business Car Manager has a range of information, including guides company car and detailed reviews such as Rolls-Royce reviews
For more information visit: http://www.businesscarmanager.co.uk or contact their editors at: 5581943.