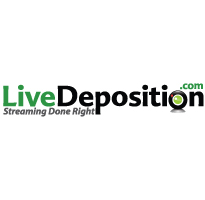 We are excited to welcome aboard Dana Hayden and the staff at Arkansas Realtime Reporting,we look forward to watching them grow and prosper through the use of our sophisticated web-based streaming deposition solution
Los Angeles, CA (PRWEB) November 13, 2012
LiveDeposition.com, a global provider of web-based realtime streaming deposition solutions is pleased to introduce the addition of Arkansas Realtime Reporting to their rapidly growing list of clients.
Arkansas Realtime Reporting, a full-service court reporter owned agency based out of Huntsville, Arkansas, has recently signed on with LiveDeposition.com to offer their clients in the legal industry a cutting-edge way to remotely attend and participate in realtime depositions. Though based in Arkansas, Arkansas Realtime Reporting offers their services to legal teams worldwide and they continue to broaden their range of services by using state-of-the-art technology such as LiveDeposition.com to keep pace with the changing needs of their clients.
As a completely web-based solution, LiveDeposition.com allows legal teams to view and participate in realtime depositions from any location without the hassle of downloading or installing software. With LiveDeposition.com, video can be streamed using any conventional web-cam, making connections instant, simple and powerful.
"We are excited to welcome aboard Dana Hayden and the staff at Arkansas Realtime Reporting," stated Steven Genter, Director of LiveDeposition.com "We look forward to watching them grow and prosper through the use of our sophisticated web-based streaming deposition solution."
About LiveDeposition.com
Headquartered in Sherman Oaks, CA, LiveDeposition.com is powered by MegaMeeting.com; a long time resident of the video and web conferencing industry. Through their cutting-edge technology, LiveDeposition.com provides the Legal Industry with web-based deposition and video conferencing solutions. Being exempt from typical download and installation requirements, LiveDeposition.com has proved itself to be a hassle-free way to stay connected, allowing court reporting agencies, court reporters, paralegals, industry experts and legal teams to streamline the litigation process and conduct real-time depositions and online meetings. LiveDeposition.com offers mobile apps for iOS and Android users, making its state-of-the-art solutions easily accessible via iPhones, iPads, as well as all Android enabled tablets and smartphones.
For more information on LiveDeposition.com please visit http://www.livedeposition.com or call 888.337.6411.