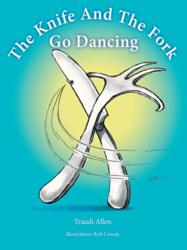 Children need answers to situations that occur in their lives, just as much as adults do," says Allen. "I think we still tend to fall into the 'eye for an eye' mentality which doesn't get us very far
Melbourne, Australia (PRWEB) November 13, 2012
Much of a child's education focuses on reading and writing, while social skills are often overlooked.
Traudi Allen's The Knife and the Fork Go Dancing focuses on the benefits of peaceful conflict resolution and cooperation with others. Allen embeds valuable lessons for children into a whimsical world where ordinary households objects come to life.
Beneficial to children's social and emotional development, Allen covers the following themes:

Many conflicts result from misunderstanding
By helping others, we help ourselves
An affectionate gesture or a kind word, even from child to child, can be healing for the giver as much as the receiver
A positive view changes the world by a simple variation in perception
Solutions to problems can often be found by approaching the situation from another point of view
"Children need answers to situations that occur in their lives, just as much as adults do," says Allen. "I think we still tend to fall into the 'eye for an eye' mentality which doesn't get us very far."
As she continues to work on her series of children's books, Allen centers her stories around applicable life lessons told in an engaging style that allow readers of all ages to enjoy and absorb the values into their own lives.
The Knife and the Fork Go Dancing
By Traudi Allen
ISBN: 978-­‐1-­‐4525-­‐0447-­‐6
Available at Amazon, Barnes and Noble, and Balboa Press.
About the author:
Dr. Traudi Allen's writing background goes back to her years as a researcher, producer, and presenter with ABC, BBC, and Radio Australia. With a bachelor's in psychology and political science and a master's and doctorate in art history, Allen is a writer and art historian who has published five books and numerous articles on Australian art. The next book in her children's series, The Old Green Chair, is currently in production and she is working on the third titled 'The Squeaky Door. She is also developing a book of adult literary fiction.