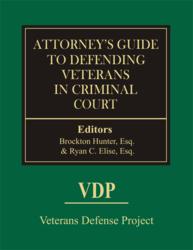 May [this book] it be used by all in service to those who have given so much to our great nation. Max Celand, US Senator, GA, Admin. US Veterans Affairs, US Army - Silver Star, Bronze Star, Soldier's Medal, National Defense Service Medal, Vietnam Service
Orlando, FL/Minneapolis, MN (PRWEB) November 14, 2012
Publication of "The Attorney's Guide to Defending Veterans in Criminal Court," which has been eagerly anticipated, is being published by the Veterans Defense Project (VDP), a newly-formed organization, located in Minneapolis, MN, dedicated to education and advocacy for veterans in the criminal justice system. The National Veterans Foundation, which initiated the concept, continues to support the VDP by financing the book's first printing.
This 800+ page publication will provide attorneys, judges, expert witnesses, and others who work with veterans in the justice system, with the very cutting-edge in understanding the nature of combat stress, its ties to criminal behavior, and how we can avoid repeating mistakes made with past generations of returning war veterans. The book will include contributions from leading experts in the fields of law, history, medicine, mental health, sociology and social work in order to provide comprehensive coverage. Contributors include such respected names as: Judge Robert T. Russel (founder of the Veterans' Treatment Courts), Dr. Jonathan Shay, M.D., Ph.D. (authority on combat trauma and criminal conduct), Marku Sario, Esq. (presented the first PTSD-based insanity defense), Trista Matascastillo, Catherine O'Connor, and Mary-Beth Boyce (covering women's issues), Dr. Ronald Glasser, M.D., Dr. Chrisanne Gordon, M.D.(experts on TBI), Linda McDermott, Esq. (Porter v. McCollum), and Peter R. Breggin, M.D. (TBI, PTSD, and Antidepressant Drugs). This is just the tip of the list of experts providing coverage in this book.
A recently-released study by the National Academy of Sciences' Institute of Medicine reported that 2.6 million Americans have now served in Iraq or Afghanistan and up to 20%, more than a half-million, are suffering from post traumatic stress disorder (PTSD). Untreated, many of these psychologically-injured veterans are acting out in reckless, self-destructive and, sometimes, violent ways that bring them into contact with the criminal justice system.
The Veterans Defense Project believes what history tells us: that as the wars in Iraq and Afghanistan wind down, the numbers of troubled veterans flooding into our criminal courts will swell. Emerging research reveals a pattern of traumatized combat veterans surfacing in the criminal justice system following every major American conflict. Unfortunately, veterans of past conflicts were often treated quite harshly when their psychological injuries led them into criminal behavior, destroying lives and families, and missing opportunities for rehabilitation and redemption.
We can do better this time around. The American criminal justice system has already begun prepare for the aftermath of the wars in Iraq and Afghanistan. Veterans Treatment Courts are cropping up in nearly every state, veteran sentencing mitigation statutes are being enacted, and post-traumatic stress is increasingly being recognized as a basis for the insanity defense in certain, more extreme, cases. Much more needs to be done, however, to educate the justice system and make the changes necessary to be ready when the wave of troubled veterans hits.
"The Attorneys' Guide to Defending Veterans in Criminal Court" is intended to be the tool to instruct attorneys in all aspects of representing veterans facing criminal charges. From establishing an effective attorney-client relationship, accessing treatment and documenting military service – to pretrial negotiation, trial and sentencing, this Guide will be the very first of its kind publication to fully address the criminal justice needs of our veterans. Prosecuting attorneys, along with judges and expert witnesses, will also find the publication an invaluable guide in understanding the critical nature of their role.
The Guide also goes beyond purely legal topics, covering a wide range of relevant subjects, including the historical context of combat stress, sociological trends following wars, the current science and treatment of disorders common in troubled veterans, and understanding the military's unique culture. The table of contents of the Guide shows, both, the depth and breadth of this one-of-a-kind publication.
American hero Max Cleland in his Foreword to the publication says, ""No matter what our broken places are in life we can become strong at those broken places. Though wounded by war or life we can find strength in our friends and love in our surroundings if we look for them. We know that through our wounding we can become healers of others if we try. This book is a testament to the spirit and life work of organizations like the NVF and VDP. May it be used by all in service to those who have given so much to our great nation." Actor and long-time veterans advocate, Martin Sheen, offers his support for the book: "The Attorneys Guide to Defending Veterans in Criminal Court is a vital resource to serve the growing number of returning veterans who face charges stemming from service-related substance abuse to mental health issues. By using the criminal justice system as an intervention tool, we can connect our veterans to the treatment they earned through military service and ensure they do not fall through the cracks into chronic incarceration and homelessness."
The Veterans Defense Project wants all returning veterans to have the best legal representation possible. Editor-in-Chief Brockton Hunter(a criminal defense attorney in Minneapolis, MN) and others from the NVP stand ready to address questions regarding the new organization and this much-needed and much-anticipated one-of-a-kind book.