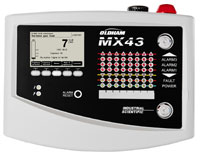 Arras, France (PRWEB) November 13, 2012
Oldham is pleased to announce the release of COM43, a simple application that gives the user access to the advanced features of the MX43 controller and makes programming fast and easy for the user.
The MX43 was developed to meet user needs in terms of flexibility, quality and ease of use. Fully scalable, the MX43 is now available with a programming CD that is compatible with any MX43 controllers already in use. Users save precious time by configuring the controller's parameters on their computer and transferring these parameters directly to the MX43 using a USB cable.
"It's an unbelievable time-saver," states Michel Spellemaeker, Oldham's global director of product management. "We are excited to get it in to the hands of customers whose busy schedules will certainly appreciate this simple and effective solution."
COM43 is equipped with many useful features:

Graphic display for easy relay programming
Architecture displayed progressively as the programming process is completed
Access to an Oldham gas monitor library pre-programmed according to industry standards
Highly practical "copy-paste" function ensures accuracy from one sensor to the next
"Verification/validation" feature to to flag any programming errors before validating
Transfer settings to the controller in just a few seconds
The CD also contains the French and English user manuals for the COM43 and the MX43 controller.
About Oldham
For more than 100 years, Oldham has specialized in safety, gas and fire detection. Oldham is headquartered in Arras, France, and is a subsidiary of Industrial Scientific Corporation. It employs hundreds of people globally and has operations in France, the United States, China and Germany. Oldham's mission is to be the best provider of fixed-point gas detection systems worldwide. It offers a wide range of application-driven products, expert advice, and the highest quality and best customer service in all transactions. For more information, visit http://www.oldhamgas.com.