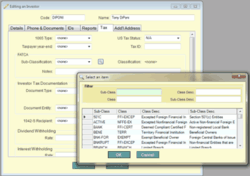 FATCA ( the Foreign Account Tax Compliance Act) goes into effect in this January.

Version 8.7 of Penny - It Works, released in October, 2012, includes extensive FATCA compliance functionality.
Mt. Kisco, NY (PRWEB) November 14, 2012
FATCA, the Foreign Account Tax Compliance Act, which goes into effect in January of 2013, poses significant operational challenges for banks that operate as both administrator and custodian for hedge funds and other alternative investments. Even with the government's phased-in approach to the regulations, many firms are straining to update their information infrastructure for the necessary changes. For the fortunate administrators that use the latest release of the Penny-it-Works® investor accounting package from TKS Solutions, FATCA compliance is no longer a concern.
In October, TKS solutions released version 8.7 of their comprehensive investor accounting package, Penny-it-Works® that includes extensive functionality for phase one of FATCA compliance. With the system, users can now categorize investors into both FATCA entity and sub-classifications. In addition, all the necessary background information such as "US power of attorney" and "Affiliate names" as well as alternative "care-of" addresses can be maintained.
Furthermore, the software can calculate whether an investor is considered to a "Substantial US Owner" and it provides a facility for the administrator to customize reports for both their internal compliance department as well as governmental reporting.
Says Ronald Kashden, co-founder of TKS Solutions, "We're pleased that our latest offering of Penny provides such a comprehensive solution to the current FATCA requirements. We worked closely with the top administrators in industry to ensure that our platform fully satisfied all their needs for these sweeping regulations. We even went so far to obtain preliminary IRS forms, such as the draft W-8BEN-E, to confirm that the software is a complete solution for FATCA record-keeping."
Understanding the potential strain of the extensive FATCA regulations, the US Treasury decided to implement the legislation in phases. Even with this stepped-approach, many organizations are struggling to make the necessary changes to avoid the penalties imposed from non-compliance. With the new version of Penny - It works, TKS Solutions now provides an off-the-shelf solution to the industry's FATCA needs.
About TKS Solutions
TKS Solutions offers a unified partnership and shareholder accounting solution for the financial industry. Its flagship software, Penny- It Works, is used to manage upwards of 600 onshore and offshore funds by providing automated and instant access to detailed investor data, performance, fees, and transactions. Penny's open architecture facilitates easy integration with portfolio accounting systems, data warehouses and proprietary solutions. Penny is used by leading fund administrators, hedge funds, investment management companies, and private equity firms with assets under management of ranging from $50 million to $100 billion.
For more information, please visit PennyItWorks.com.