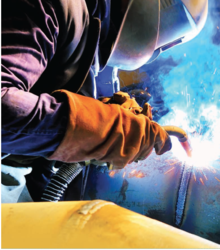 PTI has been an important part of Pittsburgh's industrial history for nearly 70 years. The welding program advances our ability to supply local industry with graduates who are ready to work.

Greg DeFeo, President
Pittsburgh Technical Institute
Pittsburgh, PA (PRWEB) November 13, 2012
Pittsburgh Technical Institute(PTI) announced approval today from the Pennsylvania Department of Education to offer a new program in Welding Technology. The 12-month certificate program delivers a variety of welding techniques and certification preparation. Classes begin October 2013.
The career-focused program meets an increasing employment demand for skilled welders in industrial and commercial welding and, particularly, welding in the oil and gas industry.
"PTI's welding program responds directly to employment trends in the region and a rising need for skilled welders in many industries," said PTI President Greg DeFeo. "PTI has been an important part of Pittsburgh's industrial history for nearly 70 years. The welding program advances our ability to supply local industry with graduates who are ready to work."
Welding Technology includes studies related to commercial and industrial concepts and technologies and prepares students for a variety of positions ranging from arc welder, MIG welder and TIG welder to layout fitter, fabricator, pipe welder, brazer and structural welder. The program also includes pipe welding and other courses to train students for careers in the oil and gas industry.
Graduates of PTI's welding program can sit for two certifications: the American Welding Society (AWS) certification and the SENSE Plates certification.
According to Jeff Belsky, Director of Strategic Initiatives at PTI, demand for skilled welders is rising. "We expect continued growth in the profession, especially in Western Pennsylvania, with manufacturing plants, bridge and barge companies, and the Marcellus and Utica Shale industries all seeking trained and skilled welders," said Belsky. "The Marcellus and Utica Shale play is in its infancy in our area and projected to last for generations, so we believe welding will play a vital role as this industry continues to evolve and grow."
Students in the Welding Technology program learn in hands-on labs using equipment that teaches Arc, MIG, TIG and stick welding. "Our 36-bay welding lab will consist of state-of-the-industry welding equipment where students will have the ability to gain valuable hands-on skills necessary for all industries," said Belsky.
Curriculum developed with the contributions of field experts prepares graduates to work as qualified welding professionals in diverse industries including oil and gas, Marcellus Shale, energy exploration, construction, mining, architecture, , commercial machinery repair and maintenance, motor vehicle body and trailer manufacturing, and fabricated metal product manufacturing..
The PTI Welding Technology program consists of 17 courses over four quarters. Some courses in the program include Gas Welding, Blueprint Reading, Math for Welders, Welding Symbols, General SMAW Practices, Exotic Metals, AWS Plate Welding Certification, SENSE Basic Welding Certification, Gas Metal Arc Welding and Flux Core Inner and Outer Shield.
Graduates of PTI's welding program will benefit from the guidance and assistance of the college's Career Services team that assists students in finding career-related employment.
ABOUT PITTSBURGH TECHNICAL INSTITUTE
Offering career-focused education since 1946, Pittsburgh Technical Institute is a two-year college with a 180-acre campus in North Fayette, west of Pittsburgh. PTI offers degree and certificate programs in areas such as Building Technology, Business, Criminal Justice, Culinary Arts, Design, Healthcare, Nursing, and Information Technology.
PTI students can take advantage of online course offerings, on-campus residence halls, student activities, intramural programs and community service programs. PTI is accredited by the Middle States Commission on Higher Education.
PTI was recognized by its employees as one of the region's Top Places to Work in a 2012 study commissioned by The Pittsburgh Post-Gazette.
###