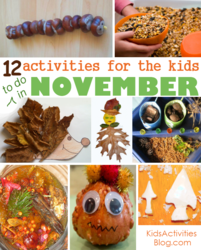 Celebrate Thankgiving by building the Mayflower together with kids.
Dallas, Texas (PRWEB) November 21, 2012
Fall time is family time. Celebrate Thanksgiving with fun family oriented November activities. Kids Activities Blog researched a variety of Mom blogs on the internet to come up with a top 12 list of best November activities for families this fall.
Among the best November activities are acorn and Mayflower crafts. Other ideas include creating a nature filled sensory tub for preschoolers, building a chestnut or acorn snake, and carving arrow heads out of a bar of soap.
A Lot of these activities can be done simply with items found around the house. Kids Activities Blog loves to feature simple ideas that are both easy and educational for children.
The best fall activities suggested by Moms include weaving a spider web, making smiley leaves and building scarecrows out of stained clothing. One of the favorites among kids is making a healthy trail mix for the family nature walk.
Additional favorites include all kinds of seed activities such as creating seed collages, making seed sensory tubs or simply feeding all sorts of critters that are hanging out on ones backyard during fall.
To find more fun family November activities that celebrate Thanksgiving, check out the laundry list of ideas researched by Kids Activities Blog. Celebrate Thanksgiving with your kids this fall!
About Kids Activities Blog
Kids Activities Blog is a website created by two moms (who collectively have 9 children), Rachel Miller and Holly Homer from June Cleaver Nirvana. It is their daily goal to inspire parents and teachers to play with kids. This interactive website publishes simple things to do with kids twice a day. Kids Activities Blog is a great tool for moms and teachers to find kid-friendly activities that create memories and sneak learning into the fun.