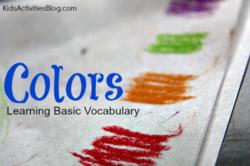 Playing with colorful buttons sharpens kids minds!
Dallas, Texas (PRWEB) November 22, 2012
Learning vocabulary is essential for kids to understand the world around them. Kids Activities Blog has great ideas to foster early childhood vocabulary learning.
Learning vocabulary with color activities is one idea featured on Kids Activities Blog. Simply use crayons to draw various color shapes and engage the toddler in naming each color. Color activities are great to teach basic language skills.
Button activities are also a great way to teach basic vocabulary and color naming skills. In addition, sorting buttons by shape, arranging them in patterns, and simply counting buttons will foster early math learning and will help the little preschoolers during the first few years of school.
Kids Activities Blog loves simple activities that are fun for kids and turn into educational opportunities for the little ones.
Additional button games can be sorting by size or learning vocabulary words by playing the I Spy Game where the child has to describe in detail the hidden button to be found. Kids Activities Blog loves to use regular household items to play and sharpen kids minds. Come check out the many activities that Moms are blogging in numbers this fall. Get inspired to sharpen kids minds during playtime.
About Kids Activities Blog
Kids Activities Blog is a website created by two moms (who collectively have 9 children), Rachel Miller and Holly Homer from June Cleaver Nirvana. It is their daily goal to inspire parents and teachers to play with kids. This interactive website publishes simple things to do with kids twice a day. Kids Activities Blog is a great tool for moms and teachers to find kid-friendly activities that create memories and sneak learning into the fun.