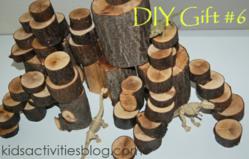 Create memorable keepsakes and turn them into homemade gifts this Holiday Season.
Dallas, Texas (PRWEB) November 25, 2012
Holiday Season is Gift Giving Season. Moms are blogging in numbers about their favorite homemade gifts and gifts kids can make. Making homemade gifts creates memorable keepsakes for family and friends that will be cherished for years to come.
The featured list of gifts kids can make should inspire or help Moms to create memorable keepsakes together with their children. Among the most creative gifts are making a set of tree blocks from a tree cut down in the yard, making a xylophone out of tin cans, creating a set of frisbee discs, and making homemade table napkins perfect for the holiday family dinner table. Making homemade soap is another kids favorite and adding for example a small toy in the soap makes soap making even more fun.
Other great homemade gifts include making yummy food items such as homemade biscotti cookies, a cake in a jar idea, or making a collection of marshmallow pops.
These and a laundry list of other gifts kids can make is currently featured on Kids Activities Blog. Come get the latest ideas to turn the next homemade keepsake into a memorable present.
About Kids Activities Blog
Kids Activities Blog is a website created by two moms (who collectively have 9 children), Rachel Miller and Holly Homer from June Cleaver Nirvana. It is their daily goal to inspire parents and teachers to play with kids. This interactive website publishes simple things to do with kids twice a day. Kids Activities Blog is a great tool for moms and teachers to find kid-friendly activities that create memories and sneak learning into the fun.