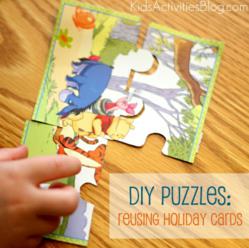 Holiday cards make great puzzles for kids.
Dallas, Texas (PRWEB) November 26, 2012
How to make a puzzle with kids out of holiday cards is the latest topic on Kids Activities Blog. Turning holiday cards into creative and educational projects is what it is all about on Kids Activities Blog.
Puzzles are easy to make, fun to play with and educational. Reuse holiday cards this season by letting the kiddos cut up according to instructions provided on Kids Activities Blog. Materials needed are scissors and holiday cards.
Turn the puzzle making into an educational activity by encouraging your child to count the number of pieces that he or she cuts and by describing the different puzzle shapes. When the child tries to put the pieces together, he or she practices problem solving skills. Among other skills learned are fine motor skills and spacial skills that provide the foundation for math during the first few years of school.
Additional puzzles for kids include making puzzles out of popsicle sticks. This puzzle idea can be a great group activity for a variety of different ages. Materials needed are wide popsicle sticks, markers or paint, and tape to hold the sticks together while drawing the picture. Assemble the sticks and tape according to the template provided on Kids Activities Blog and let the kids imagination roar.
These and other educational puzzle ideas are currently featured on Kids Activities Blog and Moms are blogging in numbers about their holiday card and puzzle ideas. Come get inspired.
About Kids Activities Blog
Kids Activities Blog is a website created by two moms (who collectively have 9 children), Rachel Miller and Holly Homer from June Cleaver Nirvana. It is their daily goal to inspire parents and teachers to play with kids. This interactive website publishes simple things to do with kids twice a day. Kids Activities Blog is a great tool for moms and teachers to find kid-friendly activities that create memories and sneak learning into the fun.