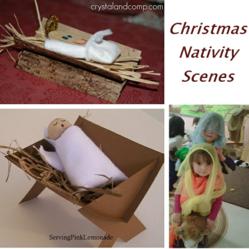 Creating a felt nativity scene calendar will get the kids inspired during the Christmas season.
Dallas, Texas (PRWEB) November 27, 2012
Christmas nativity play is the latest buzz on Kids Activities Blog that has Moms and teachers reply in numbers. An amazing 100 ideas are featured this Holiday Season. Come get inspired.
Moms and teachers have uploaded their creative activity ideas including amazing pictures about Christmas and kids activity ideas for this Holiday season. Among these featured ideas are for example creating a nativity scene entirely out of candy, building a popsicle stick manger scene, and re-enacting the Bible story of Mary and Joseph.
Another great Christmas nativity play idea is making the manger scene out of felt and turning it into an interactive December calendar. For each day of the month of December another manger piece such as an animal or figure will be placed on felt. When Christmas arrives the whole nativity scene is complete.
The children will love this simple Christmas nativity scene idea by using TP rolls and manger scene printables currently featured on Kids Activities Blog.
Easy and educational ideas for Christmas is what it is all about on Kids Activities Blog this Holiday Season. Come get inspired by the 100+ activities and crafts that are Mom approved and kids tested.
About Kids Activities Blog
Kids Activities Blog is a website created by two moms (who collectively have 9 children), Rachel Miller and Holly Homer from June Cleaver Nirvana. It is their daily goal to inspire parents and teachers to play with kids. This interactive website publishes simple things to do with kids twice a day. Kids Activities Blog is a great tool for moms and teachers to find kid-friendly activities that create memories and sneak learning into the fun.