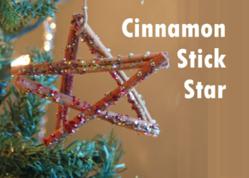 Create lasting Christmas memories by making precious ornaments this year with the kids.
Dallas, Texas (PRWEB) November 28, 2012
A list of precious homemade ornaments and other homemade Christmas craft ideas is currently featured on Kids Activities Blog.
Among the most favorite is the cinnamon stick star. Using hot glue, cinnamon sticks, a string and glitter assemble the star according to the template featured on Kids Activities Blog. This natural ornament will be a delightful smelling treasure for years to come.
Another yummy smelling ornament idea is a star made out of cinnamon dough. Please let the kiddos know that this ornament is not eatable. Ingredients needed are 1 cup of cinnamon, 2/3 cup of applesauce, and 1/3 cup of glue. Mix and bake according to the instructions provided on Kids Activities Blog. This star will smell delightfully for years to come. A little hint is to sprinkle some water on the star each year before hanging on the Christmas tree. This refreshes the great scent every year.
Other homemade Christmas ornaments currently featured on Kids Activities Blog include the clear glass ball ornament. This activity is similar to building a ship in a bottle but the easy kids' way. Materials needed are clear ornament balls, small marbles or bearings, paint, floor wax or fine glitter if desired, and a ribbon. Gently place the marbles with paint into the clear ornament and with a slow swirling motion gently paint the inside of the ornament. For the complete set of instructions follow the template provided on Kids Activities Blog.
About Kids Activities Blog
Kids Activities Blog is a website created by two moms (who collectively have 9 children), Rachel Miller and Holly Homer from June Cleaver Nirvana. It is their daily goal to inspire parents and teachers to play with kids. This interactive website publishes simple things to do with kids twice a day. Kids Activities Blog is a great tool for moms and teachers to find kid-friendly activities that create memories and sneak learning into the fun.