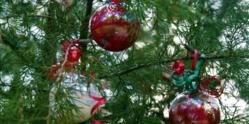 Homemade Christmas ornaments made by kids make great Christmas gifts for family and friends.
Dallas, TX (PRWEB) November 29, 2012
Homemade ornaments is the latest buzz on Kids Activities Blog. One Moms idea to make clear glass Christmas ball ornaments is the latest buzz about homemade Christmas crafts this year. These clear glass Christmas ornaments make a great Christmas gift for family and friends and are super easy to make with the kids.
Making the clear glass homemade Christmas ornaments is kind of like making a ship in a bottle. Gently drop a marble into the inside of the ball ornament, glass ball for older kids, plastic balls for younger kids. Drop some paint and glitter inside as well and with a gentle swirl motion let the kids paint the inside of the ornament. For detailed supplies, instructions, and variations of the design check out Kids Activities Blog.
Other creative homemade Christmas ornaments are making a Cinnamon Stick Star, creating a glittery toy Christmas ornament, stringing a Jingle Bell Ornament, and baking a Cinnamon Dough Ornament with the kids.
These homemade Christmas ornament ideas and many more are currently featured on Kids Activities Blog. Check out the complete list of homemade ornament ideas and the blogs from Moms and teachers to get inspired.
About Kids Activities Blog
Kids Activities Blog is a website created by two moms (who collectively have 9 children), Rachel Miller and Holly Homer from June Cleaver Nirvana. It is their daily goal to inspire parents and teachers to play with kids. This interactive website publishes simple things to do with kids twice a day. Kids Activities Blog is a great tool for moms and teachers to find kid-friendly activities that create memories and sneak learning into the fun.