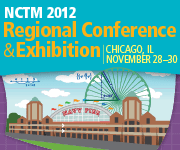 (PRWEB) November 12, 2012
WHO: National Council of Teachers of Mathematics (NCTM)
Local Host: Illinois Council of Teachers of Mathematics (ICTM)
WHAT: NCTM's Regional Conference and Exposition in Chicago will offer more than 200 sessions and workshops, covering all levels, pre-K–grade 12. The three-day conference will feature many presenters from Illinois and the surrounding states; other presentations will be given by educators from throughout the United States and Canada. Topics about pressing issues in math education will include response to intervention, reasoning and sense making, classroom uses of technology, and more.
WHEN: November 28–30
WHERE: Hyatt Regency Chicago
Presentations: Did you know that The Simpsons and Futurama contain hundreds of humorous mathematical and scientific references? At the conference's Opening Session, keynote speaker Sarah J. Greenwald present "Mathematical Reasoning and Proof with The Simpsons and Futurama." Greenwald will explore the mathematical content and educational value of some favorite moments in the television shows, along with the motivations and backgrounds of the writers. This session will kick off the conference on Wednesday, November 28, 5:30 p.m.–7:00 p.m.
On Thursday and Friday, November 29 and 30, an interactive workshop will offer tips for all new and preservice teachers on how to manage classrooms, work with parents, and handle homework. The sessions will run from 10:30 a.m. to noon.
On Friday, November 30, NCTM President Linda Gojak will discuss rich mathematical tasks that encourage the development of the eight Standards for Mathematical Practice. This session, "Cutting to the Core with the Standards for Mathematical Practice," is scheduled for 9:30 a.m. to 10:30 a.m.
Also on Friday, ICTM will honor Illinois educators who have made outstanding contributions to the field. A short video highlighting each person's contributions will be shown. Scholarships will also be presented to college students who are majoring in math education.
Registration: Attendees may register on-site in the Riverside Center of the Hyatt Regency Chicago on Wednesday, November 28, 5:00 p.m.–8:00 p.m., and Thursday and Friday, November 29 and 30, 7:00 a.m.–3:00 p.m.
Exhibits: Hundreds of the latest education products will be on display in the NCTM Exhibit Hall, Riverside Center of the Hyatt Regency Chicago on Thursday, November 29, 8:00 a.m.–5:00 p.m., and Friday, November 30, 8:00 a.m.–4:00 p.m.
WHY: To facilitate an exchange of ideas among mathematics educators on the best teaching practices and how students learn mathematics, thus enabling teachers to return to their classrooms better prepared to teach mathematics to all students.
Preview all the conference offerings!
The National Council of Teachers of Mathematics is the public voice of mathematics education, providing vision, leadership, and professional development to support teachers in ensuring mathematics learning of the highest quality for all students. With more than 80,000 members and 230 Affiliates, NCTM is the world's largest organization dedicated to improving mathematics education in prekindergarten through grade 12. The Council's landmark Principles and Standards for School Mathematics, published in 2000, includes guidelines for excellence in mathematics education. Curriculum Focal Points for Prekindergarten through Grade 8 Mathematics, released in 2006, identifies the most important mathematical topics for each grade level. Focus in High School Mathematics: Reasoning and Sense Making, released in 2009, suggests practical changes to the high school mathematics curriculum to refocus learning on reasoning and sense making.
Media interested in arranging interviews or attending the conference, contact Tracy Withrow, Communications Manager, twithrow(at)nctm(dot)org, (703) 620-9840, ext. 2189.
###