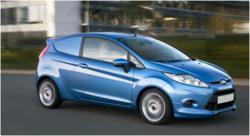 (PRWEB UK) 12 November 2012
FORD's pocket-rocket van is based on the Fiesta hatchback, Britain's best-selling car, and for a working vehicle, it really is great fun to drive.
It's available with two engine options, a 1.4-litre TDCi diesel that produces 70hp, and a more muscular 1.6-litre TDCi engine, generating 95hp.
The test vehicle, an ECOnetic model, is equipped with the 1.6-litre engine that can also be had with a coated diesel particulate filter (C-DPF) which causes exhaust particulates to be burnt or cleaned off the filter as the engine runs.
The Fiesta van's impressive green credentials also include class-leading CO2 emissions at 87g/km, Auto-Start-Stop, and outstanding fuel consumption of 85.6mpg (combined). Indeed, a Fiesta Van came top in a recent fuel economy competition – the MPG Marathon – achieving staggering consumption of 108.78mpg. This competition takes place across South Wales, the Cotswolds and South Midlands over two days, in mixed driving conditions via a route comprising A and B roads and motorway.
What's more, the Fiesta Econetic van recently also won the 'best green van' category in the British Insurance Vehicle Security Awards (BIVSA), run by Thatcham – the third consecutive year that the Fiesta has taken the award.
Behind the wheel, the driving experience is entirely rewarding, the Fiesta's precise handling and swift five-speed gear change adding to the fun. The van is really a Fiesta hatchback with the rear seats and rear side windows removed, so the cab is comfortable and well equipped.
Refinements include a leather-trimmed steering wheel, Bluetooth® Hands-Free Phone and Voice Control System plus Multi-function Display (MFD). And ABS, Electronic Stability Programme (ESP) with Traction Assist (TA) and Emergency Brake Assist come as standard.
At the business end, the cargo space is equipped with a full-height DIN-compliant bulkhead – a half-height horizontal bulkhead is an option – as well as 4 DIN-compliant cargo tie-downs and full load space rubber floor matting.
But drivers shouldn't expect the diminutive Fiesta to be a massive load-lugger – a major consideration for many tradesman and SME business van users. The bed length is 1,296mm and the capacity is just 1.0cu.m. A gross payload of 493kg can be carried. Loading is slightly hampered by the high ridge, a product of the van's hatchback origin.
And because of the lowered ride height, towing is not recommended with the ECOnetic and Sport van models.
The Fiesta Van has a three-year/60,000-mile warranty with service intervals at 12,500 miles.
What's hot?
•Fun to drive
•Good interior
•Well specified
•Impressive economy
•Low emissions
What's not?
•Load space is limited
•Hatchback-style rear door prevents flat horizontal loading and cargo has to be lifted over lower ridge
What drivers need to know
On the road price (estimated) ex VAT: £13,286
Load length: 1,296mm
Load width: 1,000mm
Load height: 806mm
Load capacity: 1cu m
GVW: 1,530kg
Towing capacity braked/unbraked: N/A
Engine: 1.6-litre 4-cyl diesel
Power/Torque: 95hp/205Nm
Economy (combined): 85.6mpg
CO2 emissions: 87g/km
Business Vans verdict
A speedy, pocket-sized van that's well equipped, refined and great fun to drive. On the down side, limited load space will be a drawback for some. Nevertheless, if one's business doesn't carry bulky loads or need heavyweight transport, the Fiesta Van is well worth consideration, especially if minimising running costs is high on their list of priorities.
Business Vans has a number of valuable information, including detailed ford van reviews and company van law
For more information, visit Business Vans at http://www.businessvans.co.uk/