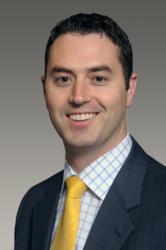 Salt Lake City, Utah (PRWEB) November 13, 2012
Holland & Hart LLP is pleased to announce the addition of David B. Hatch to the firm's Energy, Environment, and Natural Resources group. Hatch is based out of the firm's Salt Lake City office.
Hatch provides cost-effective and efficient counsel to clients in the oil and gas and real estate industries. His experience includes title opinions, division orders, leasing, purchasing, federal and state specific land issues, split estate issues, conservation easements, and mining law.
In the area of upstream oil and gas development, Hatch provides advice on the various and complex oil and gas leasing and development issues on state, federal, and private property.
Hatch is a member of the American Bar Association, the Rocky Mountain Mineral Law Foundation, Utah Petroleum Association and the Utah Association of Professional Landmen. In addition to Utah, he is licensed to practice law in Wyoming.
He holds a J.D. from the University of Utah S.J. Quinney College of Law and a B.A. from the University of Utah.
About Holland & Hart
With its firm-wide resources, local presence and coordinated efforts, Holland & Hart LLP delivers integrated legal solutions to regional, national and international clients of all sizes.
Since its inception in 1947, Holland & Hart's more than 400 lawyers have consistently been recognized by leading national and international peer and industry review organizations for innovation and dedication to the practice of law.
For more information, visit http://www.hollandhart.com.