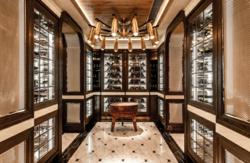 Mukwonago, WI (PRWEB) November 13, 2012
Award-winning steakhouse Carnevino, already a popular restaurant destination in Las Vegas, was looking to make an immediate impression for diners at its newest location in Hong Kong. The goal was to create a high-end luxury steakhouse accented with details inspired from vintage racing motifs. To turn this vision into reality, Carnevino's designers utilized wire mesh from Banker Wire, giving the décor key metal finishes that fit perfectly with the race-inspired machine aesthetic.
Banker Wire's DS-1, SZ-4 and IPZ-25 mesh styles were chosen for this project and used throughout the restaurant as a background accent material for stone, metal and leather paneling. The use of wire mesh helped bring depth and texture to Carnevino's walls, providing a visual experience that conveys luxury and richness.
"Creating a warm, inviting ambience is a top priority for Carnevino and plays a huge part in providing its guests with the ultimate dining experience," said Cliff Lin, Senior Designer at New York-based architectural firm, AvroKO, which oversaw the project. "We chose Banker Wire mesh due to its quality and reputation as a leading manufacturer of unique wire materials. The wire mesh we used helped breathe life into the décor and brought the overall palette together in a truly rich manner."
"The versatility of wire mesh makes it a perfect accent material for premiere dining establishments like Carnevino," said Harrison Horan, Vice President of Banker Wire. "By utilizing three different wire meshes at its new Hong Kong location, diners will enjoy a unique visual experience that will set Carnevino apart from other restaurants in the area."
Banker Wire was established in 1896 by Charles Banker as C.I. Banker Wire & Iron Works. Located in Milwaukee's 5th Ward, the company originally built wrought iron and wire products used for fire escapes and bank-teller cages. Today, Banker Wire employs nearly 100 people and is the world's leading manufacturer of woven and welded wire mesh for industrial and architectural applications.
About Banker Wire
Headquartered in Wisconsin, Banker Wire is the worldwide leader in the manufacture of wire mesh for architectural and industrial applications. Products include highly customizable woven and welded wire mesh. Banker Wire consistently challenges the status quo and creates cutting-edge wire mesh products designed to meet and exceed its customers' needs and desires. For more information, visit http://www.bankerwire.com.