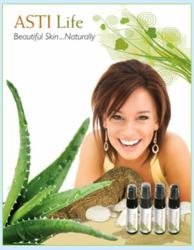 Scotts Valley, CA (PRWEB) November 13, 2012
For those looking for remedies to common skin problems such as acne, eczema, and sunburn, Anita Telle has launched a full line of natural skin care products through the company ASTI Life. The California based company has stumbled upon remedies that have been used for over seventeen centuries in Asia and has created their line of products using this ancient secret. Containing natural botanical extracts from a unique plant subspecies, the products available at ASTI Life are safe and guaranteed by Telle herself.
Anita Telle has a long history of working in the cosmetic industry, as she was formerly the COO and co-founder of a professional beauty products distribution company with nine locations. With years of experience, Telle felt it was time to provide all natural cosmetics for those who may be suffering from ailments as common as acne, eczema, and even sunburns. The products presented by her company ASTI Life do not contain fragrances, colors, alcohols, or many of the other harsh chemicals that are commonly found in other cosmetic brands. Anita Telle stands firmly behind her line of products, as she is confident that the ancient remedies provide benefits without any irritation.
Anita Telle set down clear principles from the beginning of the product launch, including a genuine commitment to quality customer service, the integrity of the product ingredients, and a 100% money back guarantee. There is a large variety of all-natural products that were launched at the ASTI Life website, which can help those suffering from many different skin conditions. From basic acne outbreaks to more serious issues like psoriasis and shingles, the ASTI Life website has an array of solutions to help everyone. For more information about Anita Telle, ASTI Life, or the all-natural skin care line, call 831-331-4401 or visit http://www.astilife.com today.